In Hollywood, Autumn Is Oscar Season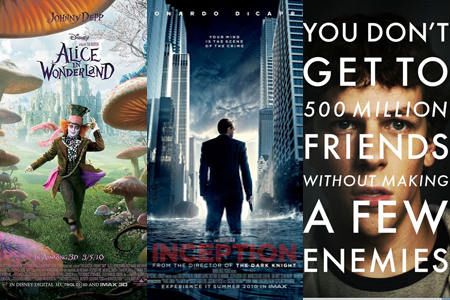 Disney/Warner Bros./Columbia
What happens at the start of Academy season is that first we notice a bunch of innocuous-looking mail from the studios, checking our most recent address. Then come the early indie screeners from the classics distributors, or obscure ones—or movies that came out early in the year and want you to remember them, like March's Alice in Wonderland. This sets assistants upon each other, checking to see who has what, and if by any chance her producer may be alone or have a mailroom employee on the verge of a piracy felony. Each week the take gets better until by Thanksgiving, it's madness. Full Autumn.
It's a local seasonal story, like you guys get the changing of the leaves on the Taconic. I swear, this is our version. It's a tradition, like taking that drive to check out the leaves: our Oscar season—each year perhaps a little redder, a littler greener, a little sweller or less swell, a little better (or in this year's case, worse) for women—but always worth a trip. It's where we live. We'll even go to a few nice wine tastings to take it in, check out the neighbors, see how they're "doing" this year. See who's hot. Ahem.
It has been a very adult fall—The Town, The Social Network, and you'd have to count the surprise success of Red—and promises to be an adult Academy season, what with Inception, The King's Speech, and The Fighter, from what we've heard so far.
Much of the early chit-chat about this season of course is on Social Network (which will be a late screener) and Inception, as those are the two clear Oscar contenders we have seen. The hands down lock nominee and winner is Aaron Sorkin for best adapted screenplay, and I said so to anyone who would listen as I left Amy Pascal and Michael Lynton's (and the producers') invited screening a few weeks before it opened. It was the most written movie I'd seen since Paddy Chayefsky's Network. Not that David Fincher didn't do a spectacular job directing it, just that it was a written movie.
Inception was a directed and not written movie, even though it was cleverly conceived. I had a little, shall we say, disagreement with an old studio head of mine outside the screening about this. "It was Fincher's movie," he said! "It would have been boring! Just words, a play!" Yes, that's true. And it was Fincher's most complete movie, his score and performances in perfect balance. But it was a virtuosic screenplay.
And then there are the parties to promote big-studio pictures. Years ago (eight?) these were tonier events—at night, with better food. But then the spending spiraled so out of control, mostly by people keeping up with The Harvey, who played the Academy game better than anyone. So the Academy outlawed the whole jazzy thing, and we are left with measly cocktail parties and luncheons. The studios used to pay for them, but that is now verboten, and now are ostensibly hosted by "friends:" the films' producers, stars, directors, friends of the stars, friends of the producers, who then hire the publicists who the studios used to hire, whose bills are paid by.... the studios? This laundering makes the parties kosher. It's a game played on both coasts, but actually ritzier in the East, away from the prying eyes, or the propriety of the Academy brass in the West, and the poor offending studios, who are always getting beaten up during Academy season, thus the 10 nominees. By golly, they are going to get something out of all these expenditures, or they'll never go hungry again. Or something.
I know why I like going to Academy events. Where else in Hollywood can I feel so young? These little unofficial official luncheons—like the one I went to earlier this month for Alice in Wonderland at a private room off the bungalows at the Beverly Hills Hotel—are the last places where I can relish the delusion of being part of the younger generation of the movie industry.
As I met my invited lunch guest whom I've known for over three decades at the valet where he was parking his midlife crisis wife electric Tesla, and we were joined by another still working producer/director whom we've both known forever. The three of us walked the winding palm frond path to the fete. We greeted each other like the survivors of a long war we feel ourselves to be. "What is this for?" asked the jaunty hyphenate.
I answered, "Alice in Wonderland wants to be nominated for best picture and with 10 nominations, I guess it thinks it has a chance if it gets out ahead of the buzz." My guest snorted, skeptically. But the hyphenate said, " With the recession and private school bills, we might as well have 15 to 20 pictures nominated. This was both funny and cute.
There is a backlash to the increased number of nominated best pictures, which the big studios lobbied for heavily and won last year. Every season it has seemed that they were either left out entirely or pulling up the rear of the of the pack of at the end of Oscar festivities, while footing the bill, essentially, for the whole shebang. Their best and most noble efforts were rarely rewarded, (Okay, Titanic, Forrest Gump, but both were along time ago) and to make matters worse, their own industry voters seemed to be rooting for the outsiders too, of late: Slumdog over Button, The Hurt Locker over Avatar, even last year in a 10-picture race. They figure with 10 pictures—including comedies and musicals—honored, more of their entries will get the enormous added publicity and marketing, an Oscar nom can bring. And so there we were at AiW party, released by Disney and a guest list of Academy Voters, aging by the second.
Septugenarians no one had seen for years since they'd lost their studio deals four rounds ago mingled with costume designers, octogenarians the septs hadn't seen since their hip replacements, and young'uns like me and my Academy producer pals and colleagues. There were about 10 of my peers, including five I hadn't seen and one I hadn't spoken to in a decade. We made up. There was much catching up on children, untimely deaths, and equity financiers giving their money to weird people. And no one discussed Alice in Wonderland where I was sitting. The man to my left, a manager in his 60's, looked so dazzling, I asked him if he'd had microdermabrasion, and he looked at me as if I were from Mars. Or Venus. He asked me if there were such thing as macrodermabrasion, before admitting that his motto was detox, retox, Botox. Here and there were AiW's costume designer Colleen Atwood, who actually could win, Helena Bonham Carter, and Michael and Pat York, who held the door for me as I left. Then I remembered having an incandescent conversation with both of them at an Academy event just like this three years ago, which none of us had remembered. This town is so deep, it's indistinguishable from dementia.
This week I watched Darren Aranofsky fete likely (winner?) nominees Natalie Portman, supporting actress up-and-comer Mila Kunis and veteran like me Barbara Hershey, in the same room. This time the venerated octos included Mr. and Mrs. Walter Matthau, who entertained a wondrous Ms Kunis and then asked me who she was. Vet Hershey and I went out for a smoke (only I smoked) right before Darren introed the cast and tech support, and scandalized all but the oxycodinized. I was the only person who hadn't yet seen the movie (wasn't it in Venice, wasn't in Toronto, and wasn't at the AFI premiere, and promised Darren, of whom I've been an avid fan since the brilliant Pi, that I would email him as soon as I did. I felt like an idiot. The noise on Black Swan since Toronto has been thunderous, as is the case for The King's Speech, which I missed at a screening at ICM Sunday night.
The buzz is heating up, my mailbox runneth over. Thanksgiving with the fam in Santa Barbara will be a festival of screeners. I return to a week of free meals. Oh, Academy season, you are such a cozy tradition. Turkey and buzz.