How the Cam Newton Allegations Could Haunt College Football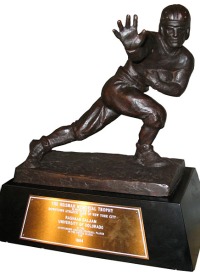 Wikimedia Commons
For the college football cognoscenti, the news that Auburn University quarterback and Heisman Trophy frontrunner Cam Newton allegedly offered his services to Mississippi State for $180,000 before signing with Auburn is the least surprising shocking revelation in years. A top college athlete demanded money under the table to commit to a big-time school? Holy Reggie Bush, Batman! Next you'll tell me that Barry Bonds used something other than his God-given talent to hit all those home runs!
For Sports Illustrated's Michael Rosenberg, the larger scandal facing Newton is allegations that he cheated multiple times on academic work while a student at Florida and was facing disciplinary action from the school when he transferred to Blinn College (his last stop before Auburn). "As for Newton supposedly being shopped for up to $200,000 ... well, nobody who follows college football is surprised," he writes. "That doesn't mean Newton got paid. It means players get paid all the time."
The fact that an amateur athlete allegedly soliciting a six-figure payment to secure his services barely raises the eyebrows of college football lifers only serves to highlight how insulated the college athletics echo chamber has become. But even if NCAA insiders and those who make their living off college football react to the Newton family's alleged transgressions with a perfunctory scolding and a shrug, they should fear the impact this scandal could have on two other groups: casual college football fans and Congress.
Like any multibillion-dollar enterprise (or political machine), college athletics doesn't just rely on its core constituency. It needs the support of its undecided voters—casual sports fans who follow their alma mater religiously and tune in to games when they're bored on Saturday afternoons. Diehard college football fans are almost necessarily jaded (hello, BCS) and will probably accept Newton's crimes (if proven true) the same way they accepted the news that Bush had accepted $290,000 in gifts from sports marketers while at the University of Southern California. But if an athlete is accused of flouting the rules of college football by multiple sources, doesn't address the allegations, wins the Heisman and the national championship while the NCAA investigation plods along, and then escapes to the NFL a couple months ahead of news that yes, he did demand "pay-to-play" deals from prospective colleges, well... let's just say a lot of casual fans may care whether the game has even a veneer of integrity.
And like any corrupt political machine, the NCAA needs to avoid the wrath of big government. Congress may have infinitely better ways to spend its time, but if California Congressman Darrell Issa really follows through on his pledge to have seven House investigations a week, 40 weeks a year, don't you think a look at the inherent corruption in college athletics could be among the 280? The NCAA is already facing a potential legal challenge from Utah's attorney general over the BCS, and it cannot afford to get in any more Congressional hot water.
To be fair, Newton is innocent until proven guilty. And the investigation will undoubtedly take months, meaning Newton will likely win his Heisman and Auburn will have a chance to win it all. But if Newton did indeed sell himself out to the highest bidder, the NCAA and college football leadership has to act harshly and decisively to reform the workings of big-time college athletics. Pay the players, fire coaches who preside over such egregious violations, send G-Men to every power-conference school—whatever. Because shoving the seedy underbelly of college sports in the face of couch potatoes and legislators will come back to haunt the NCAA.