'How I Met Your Mother' Struggles With Selling Out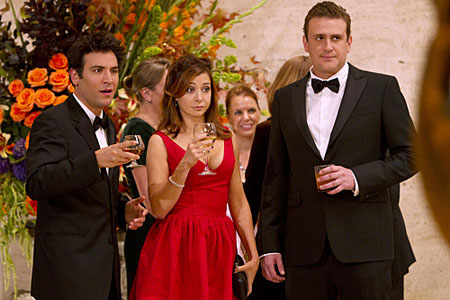 CBS
On this week's How I Met Your Mother, the gang attends the 133rd Annual Natural History Museum Autumn Spectacular alongside New York's elite, and come to realize that in the midst of professional successes, they've lost some of their youthful idealism.
At the event, Ted runs into Zoey (Jennifer Morrison), the well-groomed activist bent on saving the fictional New York landmark The Arcadian, who is swathed in diamonds and enjoying champagne ("What are we protesting tonight? The rising cost of jet fuel? The government's oppressive Top Hat and Monocle Tax?"), while Lily comes to terms with the fact that Marshall is more interested in continuing to make money at GNB than pursuing his college dream of being an environmental lawyer.
Everything is more exciting at a black-tie event. Something about the combination of drinks, satin, up-dos, and cufflinks seems to always result in heightened emotions and snappier dialogue and, overall, the episode was perhaps the strongest of the season. Here are the four best elements:
Character: Kyle MacLachlan guest-starred as Zoey's husband George Van Smoot, a floppy haired WASP who not only wears Nantucket Reds, but also self-identifies by his boarding school as a middle aged man: "You can, and should, call me The Captain."
Line: Ted to a guest at the event: "Oh my god, you have a monocle! Is this real? Is this really happening?"
Use of Artistic License: A few plot developments are made possible thanks to a strategically placed whispering gallery, an architectural phenomenon that any former Congressional intern forced to give tours of the Rotunda will remember fondly as the biggest crowd pleaser. Of course New York's Museum of Natural History isn't lucky enough to have one of these, but thanks to a little rearranging of words we can't really deny that that the fictional "Natural History Museum" might.
Montage: While the rest of the group is off struggling with issues of selling out, Barney and Robin spend the episode gleefully touching as many artifacts and exhibits as they can: