'Grey's Anatomy' Will (Possibly) Air a Musical Episode: The Good, the Bad, and the Puzzling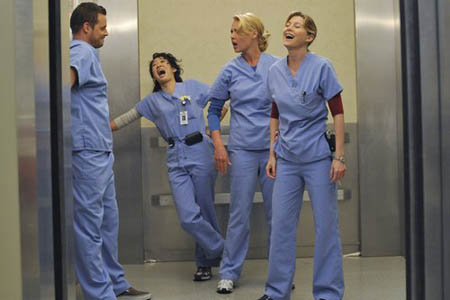 ABC
Michael Ausiello, TV's most infamous scoopster, posted a curious message on his Facebook page Sunday night: "Make way for the Seattle Grace Sopranos: Hearing Grey's Anatomy is doing a musical episode during the second half of the season."
In its six and a half seasons, Seattle Grace Hospital has dealt with a bomb detonating in an operating room, a ferry crash, and one of its doctors having sex with a ghost. Is a kick line next? Here's what's good, bad, and puzzling about a (possible) musical episode of the ABC drama.
The Good:
Grey's Anatomy boasts a Tony-award winner in cast member Sara Ramirez (Dr. Torres), who won for her role in the Monty Python musical Spamalot. Chandra Wilson (Dr. Bailey) is also a musical theater vet, having performed on Broadway in Caroline, or Change, and has sung on the show before. If you add in the cast of the Grey's spin-off, Private Practice, the musical episode would also have the talent of two-time Tony-winner Audra MacDonald, and Taye Diggs, who was in the original cast of Rent, at its disposal too.
To that regard, a musical episode could absolutely work if it was framed as a charity event in which the hospital's staff performs musical numbers. In fact, the two shows' casts did just that thing back in 2008. To benefit crewmembers that were out of work due to the year's writer's strike, they put on a concert called "Good Medicine." Translating that event to a Grey's episode would be a seamless way to show off the casts' talents.
The Bad:
While a staff benefit seems a natural fit for a musical outing, the series could enter the dangerous waters of a literal musical episode. It's something that comedies like Scrubs and How I Met Your Mother have managed, but it's much easier for a sitcom to pull off the conceit of characters singing to each other. Sure, Josh Whedon produced one of the greatest hours of television with Buffy the Vampire Slayer's musical episode "Once More With Feeling," but the fantasy world of Sunnydale—with it's creatures and spirits—lends itself more to such a thing than the rooted-in-reality medical maladies of Grey's Anatomy. In other words, the doctors should prep the ER for the aftermath of a surefire train wreck.
The Puzzling:
As we just mentioned, the medical comedy Scrubs has already attempted the musical episode. Daytime soap General Hospital used to air the "Nurses Ball" once a year, a benefit woven into the plot of the series in which characters performed musical numbers at a charity concert. Earlier this season Grey's Anatomy aired an episode filmed in the style of a documentary, a would-be interesting change of pace if ER hadn't done just that thing during its series run (and did it live, to boot). In other words, a Grey's Anatomy musical episode would make an excellent addition to The Atlantic's series on TV shows ripping off other TV shows (here's looking at you, 30 Rock).