'Glee': Two Weddings and an Anti-Bullying Message
Kurt and Finn's parents get married, Sue Sylvester weds herself, and Carol Burnett guest stars on this week's episode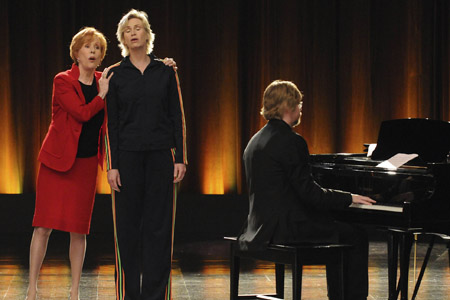 Fox
This week's episode of Glee brought two much anticipated unions. The first is the wedding of Finn's mom to Kurt's dad. The second: the pairing of Jane Lynch's Sue Sylvester with comedy legend Carol Burnett as her Nazi-hunting mother.
To help make sense of the episode, we have a panel of musical theater and pop culture buffs—Meghan Brown, Patrick Burns, and Kevin Fallon—to provide their takes on how realistic the show feels, how well the romances develop, and of course, how good the musical numbers are.
Here's what they had to say:
Meghan Brown (co-founder of the Giraffe Hunt Theater in Los Angeles): So maybe I'm just a sucker for weddings, but I thought tonight's episode worked beautifully. The fast and furious nuptials of Carole and Burt were strikingly poignant (if not a little glee club-heavy for an adult wedding party). Mike O'Malley and Romy Rosemont were incredibly compelling, and their vows to each other resonated in unexpected, truthful ways.
Glee's inconsistency actually seemed to work in its favor tonight, as moments went from touching to hilarious and back again. Putting Jane Lynch and Carol Burnett together was genius, and their rendition of "Ohio" was a strange, luminous highlight. While Kurt's bullying storyline was, at times, a little heavy-handed, I was impressed by Sue's deftness in handling the situation (as well as the choice to play Karofsky's father as a kind, caring man truly invested in his son instead of some homophobic monster). Glee seems to be hitting its stride these past few weeks, and while we're still not coming close to the ecstatic pacing of season one, I'm glad to be back on the bandwagon.
Patrick Burns (writer, composer, and star of the original one-man-musical, From Foster Care to Fabulous): Sue marries herself? Her mother is a rogue Nazi-hunter who happens to be an 80-year old Carole Burnett? They sing the sister duet from Wonderful Town? I don't buy it. I especially don't buy it because the main plot points of this episode are otherwise so effective.
Burt and Carole's wedding infused the Glee kids' lives with a sense of familial duty and pride. The straight men of New Directions rally for Kurt in his hour of need. Though Finn doesn't have the strength to join them for their endeavor, he realizes his folly and tries to make everything up to Kurt at the wedding, telling Kurt that he had helped him learn about what it means to be a man. The song choice of Bruno Mars' "Just the Way You Are" is not only original for this moment, but a touching spin on song initially conceived in romance. However, the most poignant part of the entire wedding was watching Burt and Carole beam over their children and revel in the anticipation of enjoying the new family they've become.
Kevin Fallon (writer and producer for The Atlantic's Culture channel): The first musical number this week, an as-good-as-you-would imagine duet between Jane Lynch's Sue and Carol Burnett as her mother, didn't air until 8:23. Boy, was it an interminable wait. Considering how quickly Glee breezes through storylines (the "Here's what you missed" segment had to stretch back to the beginning of Season One to catch us up on the Burt/Carol romance and Sue's affair with the news anchor), it's amazing that Kurt's bullying plot has continued on this long. It's a very important arc that's been well-acted by all parties involved, but in its longevity, it's been far too stagnant (and with that, runs the risk that members of the audience, like yours truly, will no longer care about it). Nevertheless, it was smart to involve the rest of New Directions in this week's anti-bullying crusade, since Kurt's story has been so prominent that most of the overflowing cast is consistently neglected.
And oh boy. That wedding. And that other wedding. The less said about that entrance to the Burt-Carol ceremony the better. Sue marrying Sue? Blergh. In the battle of the weddings, however, the Sylvester-Sylvester union does come out on top. A track suit gown and a meaty Lynch vs. Burnett throwdown trumps a Finn song-and-dance any day.
Past Glee panels:
'Glee': Gwyneth Paltrow Brings Fun Back
'Glee' Takes On Katy Perry, Gay Bullying
Why Did 'Glee' Do 'The Rocky Horror Picture Show'?
'Glee': Hitting a High Note, or a Sophomore Slump?
'Glee' Gets Religion, With Mixed Results
'Glee': Britney Spears Meets Britney S. Pierce