'Glee' Takes On Katy Perry, Gay Bullying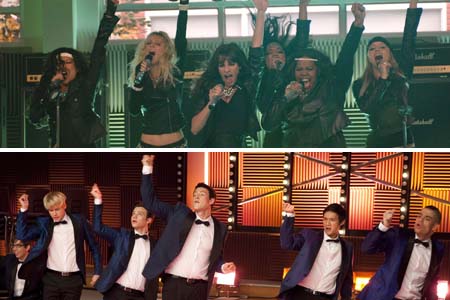 Fox
This week's episode of Glee revived last season's popular boys vs. girls mash-up battle and introduced a new character who may (or may not) be Kurt's much buzzed-about love interest.
To help make sense of it all, we have a panel of musical theater and pop culture buffs--Meghan Brown, Patrick Burns, and Kevin Fallon--to provide their takes on how realistic the show feels, how well the romances develop, and of course, how good the musical numbers are.
Here's what they had to say:
Kevin Fallon (writer and producer for The Atlantic's Culture channel): "Sectionals." I thought it was a forgotten word on Glee. The entire first half of season one was cleverly framed around New Directions' journey to the competition, a story-framing device that this year has been replaced by scattershot "theme" and message episodes.
But this week Will reminded us that the glee club will eventually compete against two new teams, one of which, the Warblers, we get to see this episode. One reason I've missed the Sectionals trajectory is because McKinley's competition schools typically stage knock out numbers ("Rehab," "Mercy"). The Warblers' acapella version of "Teenage Dream" certainly lived up to that standard, making the grating Katy Perry song not only palatable, but enjoyable. While it's certainly fun seeing Lea Michele do an occasional twirl while the camera tries to disguise Cory Monteith's two left feet, these more intricately choreographed, better-danced routines by their rivals are always a refreshing change.
Yet while Finn tells Sam that he needs to find something to be his "buzz kill" when he's having too much...fun, Glee seems to be doing a pretty good job doing that to itself. Just as a pleasantly groovy "One Love" and a rock star mash-up by the girls get you smiling, the show launches some odd "Most Heartbreaking Character" contest between Kurt and Coach Beiste. As Kurt lives out his future "It Gets Better" ad, our poor, gentle Beiste must sit through the schmaltziest Schuster speech of them all ("Your heart is just too big for most men to stand"). Buzz. Kill. Thankfully, the episode ended with a stellar Supremes/En Vogue cover that, like Beiste, had me smiling again.
Meghan Brown (co-founder of the Giraffe Hunt Theater in Los Angeles): The thing I've missed most this season is Glee's emphasis on the thrill of performance. "Teenage Dream" was the best musical number of the season thus far, and did an incredible job of reminding us that Glee shines brightest when it narrows its scope and focuses on a bunch of teenagers having un-ironic, unabashedly dorky fun. Kurt's discovery of an a cappella-celebrating, zero-tolerance utopia was a welcome reminder than one school's reject is another one's royalty. The song moved the story forward, gave a great introduction to an important new character (hi Blaine!), and sounded phenomenal.
Despite frequent dips into heavy-handedness (and don't even get me STARTED on the awful, awful Coach Beiste plotline), "Never Been Kissed" housed some legitimately affecting moments and served up a few of the strongest musical numbers this season.
Patrick Burns (writer, composer, and star of the original one-man-musical, From Foster Care to Fabulous): Tonight's episode of Glee did a great thing by confronting the topic of bullying. The gay suicide crisis that has struck our nation is nothing short of a tragedy. I'm thankful that the creators of Glee were responsible and courageous enough to realize that it was necessary to the integrity of the show to utilize the character of Kurt to tackle this issue.
Sure, the musical numbers tonight were lack-luster and it was awkward for everyone when Will kissed Coach Beiste. But, when the episode ended, what truly impacted me was the portrayal of how lost and alone a bullied victim feels. More importantly, Glee reminded viewers that one must refuse to be a victim and live with courage to conquer loneliness and fear.
I have no doubt that there were hundreds of gay teens watching Glee this week who feel a little less alone tonight than they did yesterday afternoon on their way home from school.
Past Glee panels:
Why Did 'Glee' Do 'The Rocky Horror Picture Show'?
'Glee': Hitting a High Note, or a Sophomore Slump?
'Glee' Gets Religion, With Mixed Results
'Glee': Britney Spears Meets Britney S. Pierce
'Glee' Season Premiere: The More Things Change...