'Dirty Dancing' Is Having a Moment
Its heroine wins "Dancing With the Stars," its theme song is everywhere—what's next?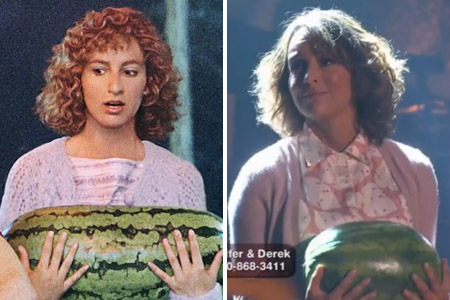 ABC/Vestron Pictures
Jennifer Grey knew there was only one way she could defeat the unstoppable Bristol Palin on Dancing With the Stars: by employing the impenetrable Dirty Dancing nostalgia. It's a move that paid off; Grey waltzed away with the Mirror Ball trophy last night. But her handling of the ubiquitous watermelon during Monday's performance (see below) shouldn't take all the credit—it appears that Dirty Dancing as a whole in the midst of a pop culture moment.
Not only did Baby claim Dancing victory last night, but Dirty Dancing's omnipresent theme song makes an appearance in the Black Eyed Peas' new single "The Time (Dirty Bit)." The record samples the famous intro to "(I've Had) The Time of My Life," and the band performed it last Friday in a gem of a performance on this week's Oprah's Ultimate Favorite Things episode (their Dirty Dancing homage develops into a mash-up of "The Little Drummer Boy" backed by a gospel choir. Yup.):
Beyond that, the recently revealed track listing for the newest Glee soundtrack spoils that "(I've Had) the Time of My Life" will also be performed during next week's episode.
Sure, the 1987 flick never really left the mainstream—with particular thanks to a near-constant broadcasting on TBS, Vh1, and the like. But there seems to be a surge of nostalgia for the film right now, with its primo placement in the pop culture zeitgeist. Grey is constantly referencing it on the highest rated show on television, its most famous song will soon be on the buzziest show on television, and it's featured in a track by the biggest radio artist of the year.
And the barrage of Dirty Dancing love isn't on its own; it's been a strange few weeks for pop culture synergy. Last week, En Vogue's "Free Your Mind" was featured on Glee...and then again the next night in an episode of Modern Family. There was a week last month when Glee, Modern Family, and Community all aired episodes about religion. Is there some pop culture puppet master orchestrating the themes and references in all the entertainment world? If tonight's Modern Family puts Baby Lily in the corner, we may have our answer.