Defending Martha Stewart, in The Atlantic Archives
As Thanksgiving approaches, revisit Caitlin Flanagan's 2002 article about the queen of entertaining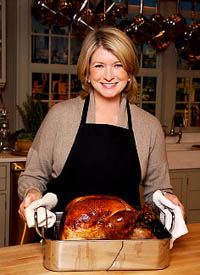 Martha Stewart Living Omnimedia
Getting ready to host Thanksgiving requires a seemingly endless list of tasks: clean the house, set the table, plan—and execute—a menu of foods most people eat only once a year. For the past three decades, Martha Stewart has attempted to help families complete all those tasks, all year round—and has attracted passionate admirers and detractors along the way.
In 2002, Atlantic contributing editor Caitlin Flanagan surveyed a range of books about Stewart—and found most of them lacking. But she did identify the secret to Stewart's appeal, using Stewart's own words. She points to an excerpt from Stewart's first book, Entertaining ...
"Entertaining provides a good excuse to put things in order (polish silver, wash forgotten dishes, wax floors, paint a flaking windowsill) and, sometimes, to be more fanciful or dramatic with details than usual. It is the moment to indulge in a whole bank of flowering plants to line the hall, or to organize a collection of antique clothes on a conspicuous coat-rack, or to try the dining-room table at an odd angle."
... and then explains why it's emblematic of Stewart's success:
The second sentence, of course, is the stuff of a thousand jokes and parodies—not just a vase of flowers but a "bank" of them; the elaborate clothing display that no normal householder has the resources or the willingness to pull off. But the first sentence is the one to keep your eye on, with its unremarkable but attractive suggestion of a house put in order: a windowsill painted, floors gleaming under a new coat of wax. In the hundredth issue of Martha Stewart Living, Stewart says that she recently came across a memo she wrote at the magazine's inception, one that she feels expresses her vision as clearly today as it did then. "Our reader," the memo states, "still wants to iron, to polish silver, to set a sensible table, to cook good food."
This week, as families across the country prepare to polish the silver, set a sensible table, and cook good food, read Flanagan's "Home Alone," which appeared in the September 2002 issue of The Atlantic.