'Community': Mean Girls and Racism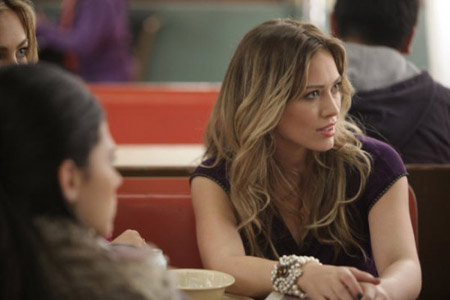 NBC
Community is at its best when the show is fully committed to a concept—be it a Mafia takeover or zombie invasion—or when it's fully invested in its own, delightful universe. This week, the show vacillated between a riff on Mean Girls—with a little bit of robot killer and Hilary Duff mixed in—and a Nazi gardener B-story. It may not have been up to the series' usually high standards (and who wastes the idea of a Women's Studies class at Greendale by cutting away before the lecture even starts?), but Troy learned never to trust a man who tells you that a swastika tattoo is eventually going to be the cornerstone of an artful ink maze. And everyone else learned the usual complement of life lessons, including:
1. Matriarchy doesn't mean you have to be mean. At least, that's what Britta, Annie, and Shirley think when they sign up for a women's studies class in response to the hypercompetitive attitude that's swamped Pierce, Jeff, Troy, and Abed. Things, however, turn out differently than they planned.
2. The change in plans comes when the ladies discover that Abed is an insult machine—maybe literally. The women can't resist aiming him at all the girls they've clashed with at Greendale, and then simply at anyone who gets in their way.
3. Meanwhile, Jeff and Troy stumble into a magical secret garden, where the lighting is suspiciously bright, the hedges are impeccable, and the secretive gardener has a highly-developed theory of joy-derived bouncing. Anything that involves a trampoline-induced high so good it can lead Jeff to lose track of a full hour and start wearing Uggs must have a dark side, though. In this case: racism! When Pierce crashes the party and violates the trampoline rules, the truth comes out.