Can Silvio Berlusconi Compete With Facebook?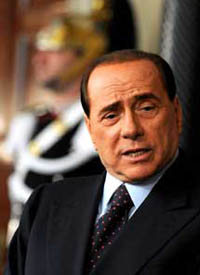 Presidenza della Repubblica
In an auditorium in downtown Milan, a group of mainly Italian lawyers and law students, media executives, journalists, and academics spent the better part of two days in late October analyzing an unwieldy but interesting topic at a forum "The Effects of New Communication Technologies upon Information." As might be expected, there was a great deal of discussion about Facebook (17 million Italians are signed up), Twitter, YouTube, Google, and iPads (all, duly noted, of American origin). I was surprised to learn that a 362-page weekly version of Vanity Fair that looks like the American monthly has caught up with and often outsells Italy's other leading news magazines, according to an Italian Conde Nast executive at the session (remember, this is Vanity Fair, not to be confused with The Economist).
Confabs like this everywhere are pretty much alike these days, but there is one major difference when the setting is Italian. The real master of Italian media, and by far the most powerful man in the country, is Prime Minister Silvio Berlusconi. And yet, though his influence loomed over the discussion at every stage, he was barely mentioned by name. Even in the corridors, the tendency when he was mentioned was to whisper and glance over your shoulder. I was one of five Americans who participated, along with 16 Italians (there was simultaneous translation). The convener was the Fondazione Centro Nazionale di Prevenzione e Defusa Sociale, founded in 1948 to focus on social sciences and justice related issues. My invitation came from Guido Calabrese, a judge of the U.S. Court of Appeals for the Second Circuit, former dean of Yale Law School, and now Sterling Professor of Law Emeritus, whose Italian origins and American accomplishments blend into an irresistible energy and charm. But he, too, managed to summarize the proceedings without giving Berlusconi the attention he deserved in considering Italy's situation today.
The Berlusconi factor is unique among developed countries. His company Mediaset controls about half the television channels and the country's leading advertising agency. He and his family own the largest publishing house, major newspapers, video distribution and movie businesses, and have significant holdings in finance and insurance. Among the Italian panelists (which included the chairman of Mediaset), the most outspoken remarks on the intersection of Italian politics and media came from Alessandro Galimberti of Il Sole 24 Ore, Italy's equivalent of the Financial Times. He was warmly applauded by the audience, but he managed to make his essential case without specifically mentioning Berlusconi as the source of Italy's peculiar reality: the Italian traditional media--newspapers, news magazines, and television news--function in a framework dominated by a flamboyant mogul who has shaped the country's character for more than a decade. (There is an uproar this week over his intervention in yet another case, in this instance, a girl under 18.)
Nonetheless, the language and gadgetry of today's digital landscape are taking hold in Italy as they have elsewhere, although in most respects they are not as far along there as in comparable states. Of the four million companies in the country, only 60 percent have Internet access, and only 20 percent have websites. Investment in digital start-ups is relatively modest. Can you think of an Italian brand that is dominant the way Olivetti was once synonymous with typewriters? And yet the fascination with all the communication formats, search engines, and social networks is clearly intense. My keynote remarks were about the speed of change and the impact that was having on news and books. But most of the panels dealt with issues like "governmentality" and personal security. Americans also debate the role of government (the Federal Communication Commission's struggle over net neutrality) and the impact of Facebook and Google, among others, on privacy, but Italians make their arguments against the backdrop of Berlusconi's control of so much what us available and how it is handled.
On a trip to Italy earlier this year (a short vacation in Rome and Florence), I discussed all these matters with two very prominent Italian journalists (over dinner with lots of wine, so I'm not going to identify them further but I can vouch for their independence from the Berlusconi enterprises). Why does Berlusconi have such a firm grasp on the instruments of state and life, I wanted to know? Mainly, they said, because no one has emerged as a meaningful competitor in politics, business, or media. By the standards of Italy's post-war history, Berlusconi has stabilized the country to the point of stifling ambition among potential opponents. In the midst of the global recession and related upheavals, Italy seems relatively less troubled than perhaps it should be.
All I really can relate of Italy in 2010 are glimpses. But all the momentum of Facebook, Twitter, Google, iPad, and the rest actually may be a forerunner of inevitable change. These are independent, international outlets that operate outside the traditional Italian means of communication and distribution. Berlusconi is today's emperor. The media he controls--television, newspapers, and magazines--will endure, but there are powerful forces at work that assure Italy alternate voices, and out of them may emerge the country's next leadership class. Even Silvio Berlusconi will someday be a piece of Italy's past.