'Beowulf': Proof Robert Zemeckis Hasn't Lost His Touch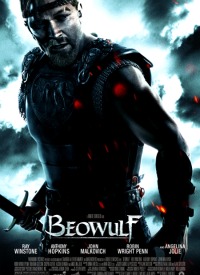 Paramount Pictures
Disney did its part to scare up visions of Christmas near future last week, releasing Robert Zemeckis's motion-capture adaptation of Charles Dickens's A Christmas Carol on home video (nearly a year after its 3-D theatrical release, an interim that remains common seemingly only for holiday titles). The film, which stars Jim Carrey as Ebenezer Scrooge, marks the director's second stab at creating a Christmas family-viewing perennial: 2004's The Polar Express adapted the contemporary-classic Chris Van Allsburg book into a thoroughly off-putting fantasia, matching naturalistic human movement with eerily inexpressive digital likenesses—and personifying yuletide spirit as an abundance of Tom Hanks avatars.
It's a little bit disconcerting that the man behind such adventurous (not to mention thoughtful) blockbuster fare as Back to the Future (1985) and Cast Away (2000) seems so determined to deck out his filmography with these state-of-the-art renderings of cookie-cutter holiday sentiment. But the performance-capture epic Zemeckis made in between The Polar Express and A Christmas Carol shows the filmmaker hasn't lost his edge.
His 2007 version of Beowulf—adapted from the Anglo-Saxon poem by fantasy scribe Neil Gaiman and filmmaker Roger Avary (The Rules of Attraction)—manages to simultaneously parody, broaden, and deepen the classroom staple. The film remains riotously grotesque—at least for a PG-13 film, in which all the rude bits must be strategically hidden by props or penumbras—but also exceptionally interesting.
Much of the movie takes place in the raucous Denmark mead hall where Hrothgar (Anthony Hopkins) presides, a place terrorized by Grendel (Crispin Glover), here imagined as an indomitable but cowering exposed-tissue gigantism case. Soon the strapping warrior Beowulf (the over-50 British character actor Ray Winstone, in an inspired bit of motion-capture-enabled casting), also portrayed here as an image-conscious serial exaggerator, shows up to defeat the creature. A mead-and-golden-treasure-filled celebration commences.
But in Gaiman and Avary's decades-spanning version of the tale, Grendel's mother, a water-demon temptress (Angelina Jolie) who proves irresistible to kings, turns out to be the real curse on the land. Additionally, the spindly court advisor Unferth (John Malkovich) officiates an early-days-of-Christianity subplot; the sixth-century setting serves as a juncture between the age of the epic and that of the Good Book, leading Beowulf to such ruminative last-act pronouncements as "The time of heroes is dead, Wiglaf; the Christ-God has killed it, leaving humankind with nothing but weeping martyrs, fear, and shame"—which, oddly but probably not coincidentally, sounds a lot like a watered-down late-Nietzsche aphorism.
Of course, Beowulf doesn't solve the problems inherent in Zemeckis's patented brand of almost-realistic digital animation—notably the glazed-over eyes and what appear to be occasional inconsistencies of scale, especially in interior scenes. The movie just happens to be involving enough at the levels of story and character that it never degenerates into pure spectacle. I'm not sure that there has been a film as intelligent and wildly go-for-broke as Beowulf that has also cost well upward of $100 million to produce, though when it comes to enormous-budget grand-scale visions I'm also partial to Michael Mann's eye-popping feature-length return to Miami Vice (2006).
Zemeckis, who turns 60 in May, is currently working on a 3-D remake of the Beatles cartoon Yellow Submarine, suggesting the director continues to be interested in adding new wrinkles to beloved classics. My own personal Zemeckis classics-rewrite wish list includes Nathaniel Hawthorne's The House of the Seven Gables, with its Puritan funhouse vibe, and the 19th-century German novella The Rider on the White Horse, a dikemaster legend that also traffics in the supernatural and inclement weather. But of course that's all just wishful thinking. For now the unexpectedly moving and funny Beowulf will certainly suffice.