Amy Sedaris on Crafts for the Poor and a (Possible) Return to TV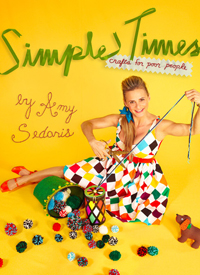 Grand Central Publishing
A few years ago, Amy Sedaris—comedienne, actress, entertainer-extraordinaire—was perhaps best known for playing 46-year-old high school freshman Jerri Blank on the cult hit Strangers with Candy, a Comedy Central show she co-created and starred in with Paul Dinello and Stephen Colbert. It made her fans (and friends) out of everyone from David Letterman to Sarah Jessica Parker, and led to memorable roles in blockbusters like Elf and Maid in Manhattan.
Then, in 2006, Ms. Sedaris—her brother happens to be humor writer David Sedaris—revealed her other talents when she published her one-of-a-kind, hilarious guide to entertaining, I Like You: Hospitality Under the Influence. She gave Martha Stewart a run for her money, and stayed on the New York Times bestsellers list for more than12 weeks.
Now, the multitalented Sedaris is back with her similarly-eccentric sophomore effort, Simple Times: Crafts for Poor People. Having just kicked off her nationwide book tour, Sedaris spoke to us by phone from her latest stop in Atlanta to talk about the book, the origins of her crafting interest, and whether she'll return to TV anytime soon.
---
So let's talk about crafts. I feel like crafts sometimes get a bad rap.
They do! Why do you think that is?
They have a kitschy vibe, I'd say. They're not always the coolest.
I like crafts that are made out of necessity. My craft supplies might come from hardware stores. Like, I break stuff down for their parts and reuse them. Sometimes when I hear the word "crafts" I think of scrapbooking, and then I think of some hideous thing that you probably want to throw out.
When did you first get into crafts?
I was in Girl Scouts. And you know, in first grade you always make ashtrays for your dad's office. And in my house we would always turn the basement into Santa's workshop and make ornaments. Everyone in my family makes stuff instead of buying it; like instead of buying a card we would just make one. So it's always been a part of me.
I enjoyed your section about mixing crafting and alcohol—but is alcohol good for craft inspiration?
I know a lot of alcoholics are known to do that. But I'm personally not a big drinker. I think that would be just depressing to try to drink and make something. But smoking pot and crafting makes more sense to me. [Laughing.] A lot more fun and entertaining.
What do you think is your most popular craft that you've shared with friends?
I like those potholders—I didn't know about those [make-your-own] potholder kits until I was in my 40s. I love making those and I'm good at making those, and I sell them when I'm touring. Really, normally to give someone a craft is iffy. You really don't do that. People don't want that. Especially if you're not a good crafter.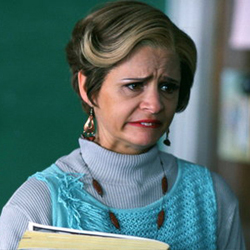 Comedy Central
You're well known for your role as Jerri Blank, in Strangers with Candy. Being a 46-year-old high school freshman, I wasn't sure if Jerri would be good at craft making—but after I thought about it, she's actually pretty crafty.
She's crafty in a way that's shifty—she could make the shiv. [Laughs] You know Jerri. I think she'd probably stop in the middle of a project and lose interest. She can put on her own eyelashes, though. That's pretty crafty. She'd put on crafty jewelry: that raccoon necklace, that ring made just out of a puff of blue fur. She liked that stuff, but was just too lazy to sit down and finish a project.
Did you imagine a specific audience when you wrote the book?
I didn't. I just sat in my apt and had a select group of people who helped and we came up with ideas. Paul [Dinello] and I did the writing. It's like we just put everything in there that I love—all the costumes and makeup. And a lot of people just loved having a project to work on, and I would ask them to help.
Who helped you out with the book?
I did a music video for Dolly Parton, and Adam Selman did my costume for the video, and we became friends. He was my right hand guy [with the book]. I went to other people, too, or friends that could do specific crafts.
Do you like touring?
You know, I like meeting people... I like the audiences, and enjoy Q&As, but I always forget about the other stuff involved. I hate packing and having to pack for a long time. I went to YouTube and asked, "How do you really pack? How do I make this easier?" But I didn't really see anything on there that's too helpful except they say, "Put your socks into your boots." Boots? What? So, I don't like that part—lugging your shoulder-pack around, getting on planes, delays. And because it's for a craft book, you want to wear a crafty outfit. Which is harder when you're traveling. And then you forget to eat, and then you don't get any sleep. It's always kind of hard in the beginning, before you get into a rhythm.
Do you have plans for another book?
I'm always writing down ideas and things that inspire me and after a while I'll open it up and look at them. The thing about working on a book like this is that it takes you out of circulation. You can't do too much else. It's nice to have a project like that's just completely creative, and I'm in charge, and then when I'm ready, I come out of my hole, and I'll do a TV show, or a movie, or whatever else there is.
Speaking of TV/movies—anything coming up?
I have a role in The Best and the Brightest [a film that comes out in 2011, with Neil Patrick Harris]. I'm going to be in an episode of Raising Hope soon. I haven't planned anything else. I don't have anything else on my plate. I'm kind of excited about that. I'm just going to promote the book and then decide what to do after that.
A while ago I heard you were planning a new show—perhaps a follow-up to Strangers with Candy. What happened to that?
I'm still thinking about it. The thing is finding the right place for it and finding the right people to work with. I still want to do it. It takes a long time. It's always on my mind. I'm trying to figure out what it is, or where it will be. It will happen when it's supposed to.
That's exciting. Can you tell me any more specifics? I've flirted with the idea of doing a hospitality-type show. But once you go down that path you're more stuck with doing a very particular type of show, or being a particular type of character.... I do better when I'm hiding behind a character like Jerri Blank. I have another character that I think is as strong as Jerri Blank, and once I have that down more, I'll be excited to work on it. I just very recently decided I might want to work with that character, so I'm looking forward to when I'll get to finally sit down and think more about it.