'30 Rock' Tackles the Tea Party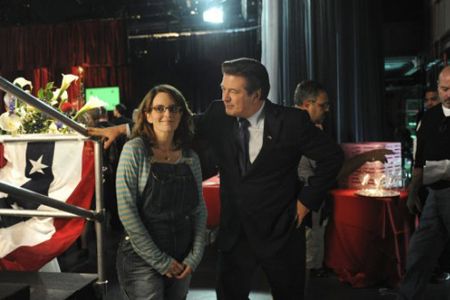 NBC
Who would have thought that an episode beginning with Liz Lemon trying on jeans would end up being a neat summation of the political cycle we just survived?
As is so often the case on 30 Rock, a guest star—in this case, a particularly scruffy John Slattery—becomes the driver of the episode's plot. His character Stephen Austin (who goes by Steve Austin, so as to be confused with the Stone Cold iteration) is the perfect amalgam of some of the more noteworthy Congressional contenders from the 2010 races.
He's a "maverick" and a "constitutional originalist", he's the manager of a paintball range, he believes what happens under a man's rain poncho at a minor league baseball game is his own business and that a cell phone is a CIA tracking device, and, best of all, he stars in some particularly wonderful TV spots.
It wasn't Tina Fey's Sarah Palin, but Slattery managed to capture a bit of the zeitgeist of the 2010 midterm elections.
On the other side of the aisle, Liz Lemon represents crunchy, handmade-in-the-USA, green-loving liberals. She finds a perfect pair of jeans at a hip store called Brooklyn Without Limits, which is, to Liz's great dismay, owned by Halliburton. Jack helpfully points out that everything is owned by Halliburton, and also that the jeans are made by orphans. At least we got to see a lot of Liz's derriere?
All in all, it was a decent evening of political humor, reminding us that, no matter the viewpoint, we're all a little ridiculous. But not as ridiculous as John Slattery in a diaper.
Best random quote that has nothing to do with the show's plot: "That movie gave me drunk in the bathtub face." –Jenna Maroney