17 Holiday Travel Tips From Movies
Don't bring grandpa, carry on all luggage, keep track of your kid, and other advice from "Little Miss Sunshine," "Meet the Parents," and more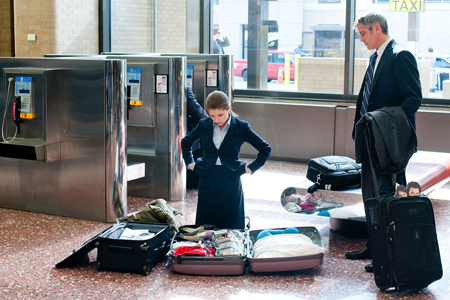 Paramount Pictures
Wednesday is the year's biggest travel day in America. Whether you're taking a train, a plane, or an automobile, you can find tips to make your trip less of a hassle, courtesy of your favorite movies:
1.) Don't overload you car
How the Grinch Stole Christmas: After robbing all the Whos down in Whoville of their Christmas paraphernalia, the Grinch packed up his sled. "Packed it up with their presents! The ribbons! The wrappings! The tags! And the tinsel! The trimmings! The trappings!" It was all far too much for his sled to handle. After the Grinch has a change of heart and tries to keep the sled from plunging off a clip, his heart must grow three sizes in order to save it. We may not all be that lucky.
2.) Check your headlights
Rudolph the Red-Nosed Reindeer: A strong fog makes weather conditions too treacherous for Santa and his sleigh to fly, nearly canceling Christmas. Luckily Santa think to use Rudolph, who had just spent 90 minutes of a movie being ostracized for being different, as lead reindeer, lighting the way with his glowing red nose. We may not all have our own 75-watt reindeer, but it pays to keep a spare bulb around.
3.) Know your city's traffic norms
Elf: After Buddy the Elf discovers that he's in fact human, he embarks on a search for his biological father—a journey that takes him from the North Pole to the Empire State Building. He passes through the seven levels of the Candy Cane forest, through the sea of swirly twirly gum drops, and then walks through the Lincoln Tunnel to the streets of Manhattan, where he learns a valuable lesson about crossing New York City streets: "Watch out, the yellow ones don't stop!"
4.) Call ahead for reservations
The Nativity Story: A very pregnant Mary and her fiance Joseph journey to Bethlehem for the census, but once they arrive they discover there's no room left at the inn. When Mary goes into labor, the innkeeper offers them the stable, where Mary gives birth to baby Jesus among the barn animals.
5.) Don't bring your aunt ...
Vacation: Clark Griswold (Chevy Chase) takes his family on a cross-country road trip. During a pit stop at a cousin's house (trailer) in Kansas, Clark reluctantly agrees to drive their Aunt Edna to her son's house. Unfortunately, Aunt Edna dies, adding yet another complication to the disaster of a vacation.
6.) ... Or your grandpa
Little Miss Sunshine: The Hoovers load into their antiquated, barely-running Volkswagen van to get daughter Olive from Albuquerque to California for a children's beauty pageant. Like the Griswolds, the Hoovers are unexpectedly sidetracked when Grandpa passes away during the trip, causing them to nearly miss the competition.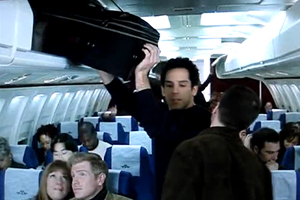 Universal Pictures
7.) Carry on all baggage
Meet the Parents: A man flies from Chicago to New York to meet his girlfriend's family and makes the big mistake of checking his luggage instead of carrying it on. His bag gets lost, and when it's finally returned, the airline accidentally brings him another passenger's bag, which is full of sex paraphernalia.
8.) Stand behind Asians in the security line
Up in the Air: As a man who travels the country firing people, Ryan Bingham is full of travel tips, from the most efficient way to pack a suitcase to how to successfully (and then unsuccessfully) have business travel affairs. But the most memorable is his advice to stand behind Asians in order to get through security lines faster: "They pack light, travel efficiently, and they have a thing for slip on shoes. Gotta love 'em."
9.) Keep track of your kid in the airport...
Home Alone 2: Lost in New York: In the Home Alone sequel, the family manages to avoid leaving their son at home—but they end up losing him at the airport. He mistakenly gets on a plane to New York while the rest of the family heads off to Florida.
10.) ...And on the plane
Flight Plan: A woman boards a New York-bound airplane in Berlin, with her daughter in tow. After finding their seats, the mother falls asleep. When she wakes up, her daughter has disappeared—but no one on the plane believes her.
11.) Wait for the plane ...
Home Alone: When a mother discovers she left her son at home while the rest of the family went on vacation, she wants to get back home to him as quickly as possible. But holiday travel being what it is, she can't get on a flight, so she hitches a ride from Scranton to Chicago with a group of workaholic polka musicians. Twelve hours and 700 miles later, she finally arrives at home—about five minutes earlier than the rest of the family, who had waited for the next flight.
12.) ...Or don't
Forces of Nature: After the plane he's taking to his wedding gets engine failure, a man decides to rent a car and drive to his destination with a good-looking fellow passenger. Over the course of their journey, he realizes he would be making a big mistake if he married his fiancee—and that he's in love with his traveling companion.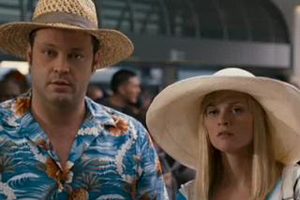 New Line Cinema
13.) Stay clear of news cameras
Four Christmases: Unmarried with no children and two sets of divorced parents, Brad and Kate escape the burden of awkward Christmas obligations by pretending to go away to do charity work each holiday season—in reality, they head to tropical destinations. But when all flights are grounded due to a fogbank, Brad and Kate's plans are canceled. Worse, a TV news crew interviews them about the ordeal, alerting all four parental units that they will be in town for the holidays, forcing the couple to endure four Christmases.
14.) Don't be too friendly with people at the airport bar
Red Eye: A woman's flight is delayed, so she goes for a drink with a handsome man she's met at the gate. Big mistake: he turns out to be a terrorist bent on killing a government official—or her father.
15.) Keep track of your belongings at all times
The Polar Express: A young boy has the experience of a lifetime when he's picked up by a train on Christmas Eve and taken to the North Pole to meet Santa Claus. He's selected as the lucky kid to receive the first present of Christmas and asks for a bell from Santa's sleigh. Santa obliges—but when the boy returns home he realizes he's lost the bell because it fell through a hole in his pocket.
16.) Pop a breath mint before picking up loved ones
Love Actually: The love it/hate it romantic comedy begins with Hugh Grant's character saying, "Whenever I get gloomy with the state of the world, I think about the arrivals gate at Heathrow Airport." The monologue is delivered over a montage of fathers and sons, mothers and daughters, husbands and wives, boyfriends, girlfriends, and old friends all reuniting in an airport terminal, homecomings that are alternately romantic, heartbreaking, happy, sad, and, sometimes, sexy.
17.) Train travel may not actually be safer than air travel
While You Were Sleeping: With the TSA's new body scanners raising concern among air travelers, some are considering taking trains home this year instead of planes. But this movie shows that train travel can be just as problematic as air travel. A man gets mugged and knocked unconscious on a train platform, and when he comes to several weeks later he realizes a delusional woman has been claiming to be his fiancee for the whole time he's been in a coma.