'The Social Network': The Thrilling Facebook Creation Myth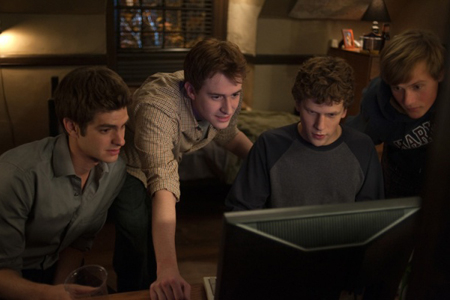 Columbia Pictures
Of the many revelations in director David Fincher's 2007 thriller Zodiac, perhaps the most surprising was that Fincher could so easily sustain, for more than two hours, the suspense provoked by murders committed in the first 20 minutes. Following its violent beginnings, the film—based on the hunt for the serial Zodiac killer who haunted the Bay Area in the late 1960s and early '70s—contained no shootouts or car chases or fisticuffs, and boasted one of the talkiest scripts in recent mainstream cinema. Yet its 150 minutes flew by as if they were half that: the clinical police procedural as narrative wind sprint.
Following his interesting (if only intermittently successful) detour into curatorial biography with The Curious Case of Benjamin Button, Fincher has now completed the lesson he began with Zodiac: it turns out that the onetime director of Alien 3 and Se7en can keep us on the edge of our seats without any murders at all.
The vehicle for this validation is Fincher's latest film, The Social Network, which tells the story of social-media goliath Facebook and its founder, Mark Zuckerberg. We first meet Mark (Jesse Eisenberg) as a sophomore at Harvard in 2003, in the process of being dumped by his girlfriend, Erica. (This is what in fables of geek superherodom is called a "creation myth.") Mark is brilliant and inept, needy and condescending, hyper-confident and pathologically defensive—traits that tumble out atop one another like Keystone Kops exiting a squad car. Over the course of a few minutes, his hopscotch patter lights upon, and then abandons, such motley subjects as Harvard final clubs, the crew team, and the number of genius IQs in China. Bemoaning the exhausting, elliptical nature of their interactions, Erica (Rooney Mara) tells Mark, "Dating you is like dating a Stairmaster." Little wonder she decides to step off.
Mark returns to his dorm room to get drunk and blog unpleasantly about his ex, but soon his inebriated malice expands into a broader exercise in misogyny, as he plucks photos of Harvard co-eds from a variety of protected servers—no mean feat—and sets up a website where onlookers may make head-to-head judgments on their relative hotness. The stunt captures the attention of the college administration, but also that of a pair of identical-twin, blue-blooded jocks, Tyler and Cameron Winklevoss (both played, in a neat bit of cinematic sleight-of-hand, by Armie Hammer), who enlist Mark to help them build a university-wide social networking site. Inspired by the Winklevosses' idea—or, less charitably, stealing it—Mark secretly begins designing "The Facebook." (How quaint that definite article, like a reference to Madonna Ciccone.) The rest, as they say, is history.
That history is told by means of a framing narrative in which Mark is deposed for overlapping lawsuits, one by the Winklevosses—or, as he refers to them, "Winklevi"—and the other by his former best friend and Facebook co-founder, Eduardo Saverin (Andrew Garfield). It's a perfectly reasonable device, though hardly a necessary one: we already know whodunit (Mark) and more or less whathedun (screwed his partners out of their claims to Facebook), and there's nothing particularly notable about howhedunit.
But if the movie's architecture is classical, its individual scenes have a sleek, modernist flair. The script, adapted by Aaron Sorkin from Ben Mezrich's The Accidental Billionaires, has all the conversational panache for which the West Wing creator is known. But here again, credit must be shared by director Fincher, who imbues scene after bickering scene with the kind of headlong momentum one associates with action thrillers. In my review of Zodiac, I commented on the director's knack for "verbal choreography," for capturing the kineticism of words thrown back and forth, and this gift is on still more prominent display in The Social Network. Beginning with Eisenberg (here enjoying the role of his young career, at least until someone inevitably casts him as the lead in a Woody Allen biopic), the entire cast—including Justin Timberlake, who plays Napster co-founder Sean Parker as a kind of sleazy Svengali—deliver their lines with deft aplomb. It's as though Fincher has found a formula for turning any actor, every actor, into Robert Downey Jr.
By nearly all accounts, Fincher and Sorkin have taken liberties with a number of narrative details, though I leave these to interested parties to sort out. There are occasional false steps along the way—for instance, a misplayed bit of comedy involving Eduardo's stalkery girlfriend—and the film slows somewhat in its final act, as Mark's dynamic blend of insecurity and aggression recedes into passivity. But The Social Network is easily among the strongest films of the year to date, and proof that Fincher's directorial verve can imbue virtually any tale with urgency, be it the search for a killer or the search for a killer app.