'The Office': Michael Has Father Issues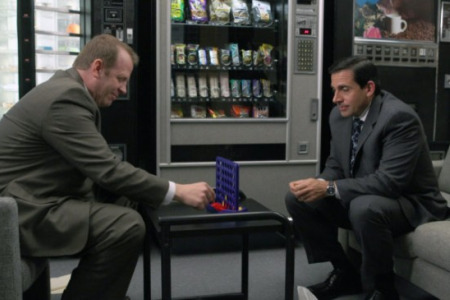 NBC
In this episode, Michael goes to counseling for spanking his nephew, former office assistant Luke. In a classic Office twist (classic, in the sense that it would never happen in any real office anywhere), his counselor is Toby, his arch-nemesis, who somehow only wants to help. Toby cons Michael with Connect Four and coloring and gets him to share stories about his stepdad (or, in Michaelese, "my mom's boyfriend who she married") and his dog.
Outside of Toby Freud's office (the break-room, where we see Toby has meticulously arranged therapy-appropriate sofas), the rest of the staff was helping Dwight seek revenge against the Precious Heirlooms at the Steamtown Mall. Dwight suggests a boycott, Creed wants the gang to start their own mall, and Kelly says that Dwight should "Pretty Woman their asses!" Which is, of course, what Jim, Andy, and Dwight end up doing (Andy inserting himself into the situation in a populist disavowal of his own Ivy League patrician upbringing. "Did you assume that I would automatically side with the rich, snobby shop owner?" he asks, casting aside his cufflinks and tie clip.)
The staff dresses Dwight up in what we'll call Dwight-chic—he looks like Sherlock Holmes and is definitely using a paper towel as a pocket fold and might be wearing my grandma's favorite scarf—and they head down to the mall to get revenge. We find out why Dwight was really denied service:
The Michael Meter (scale of 1-10, Michael's importance in this episode): 5.33
Best Joke You're Most Likely to Forget: Erin's actual disposal of her disposable camera. "If it's an important event that you want to remember, I recommend using a real camera. But I don't care if I forget today."
Prediction of the Week For Who Will be Scranton's Next Regional Manager: Pam's new (self-given) job title of "Office Administrator" practically screams leadership coup waiting to happen.