The 5 Stages of NFL Fan Grief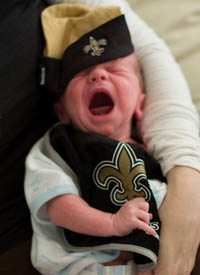 storyvillegirl/flickr
The Kübler-Ross grief cycle, more commonly called the "Five Stages of Grief," describes the distinct emotional phases most people go though when mourning a great loss. But the Five Stage model also applies in other life events. Like a bad breakup, for instance. Or if your talk show gets canceled, ala' Dennis Miller. Or when a professional football team loses an NFL regular season game. Like Sunday, when the football-mad people of Kansas City suffered a horrendous tragedy when their beloved and finally resurgent Chiefs gave up a heartbreaking, 35-31, snatching-defeat-from-the-jaws-of-victory loss in Houston. From a careful reading of the mountains of text messages and Facebook updates yours truly saw before, during, and for an entire 24 sullen hours after Sunday's game, we can reconstruct Kansas City fans' emotional journey—and see it as a model for how other sports fans handle traumatic games.
In control for most of the contest, the Chiefs capped a fourth quarter scoring drive with an 11-yard run by Thomas Jones to go up 31-21 with 7:05 left. But a short kickoff by KC was returned 26 yards by the Texans' Vonta Leach, setting up the Arian Foster TD a few plays later that cut the Chiefs' lead to 31-28 with 3:30 to go.
Denial, in the Kübler-Ross model, is a psychological defense. Used by people facing bad news, the idea is pretty much to ignore a problem and hope it goes away. In the case of KC fans, the classic refusal to face reality manifested itself in text messages like, "We've still got this game," and "There's no way we're losing!" and "Just one first down. The game is over."
But it wasn't over. It had only just begun. Picking the worst possible moment for their most feckless offensive sequence of the afternoon, Kansas City went a quick three-and-out—including two incomplete passes that took virtually no time off the clock. As the team punted, my friend Chris sent a text that could quite possible stand as the most concise expression of the concept of denial ever crafted in the English tongue.
"This isn't happening," he wrote.
Oh, but it was. Before the eyes of a horrified city, in breathtaking HD, with the perpetually ecstatic Gus Johnson deliriously booming every horrific detail.
On Houston's next play from scrimmage, quarterback Matt Schaub dropped back, eluded the Chiefs' rush, and found his favorite target, wide-receiver and freak of nature Andre Johnson, over the middle for a 15-yard gain. After a line-buck failed, Houston faced 2nd and 10 on their own 45 yard-line, with 1:54 left to play. No problem. Schaub found Johnson again, this time far down the right sideline for a 31-yard dagger into the collective heart of the Arrowhead faithful. Then, sweet mercy. A reprieve, a stay of execution—a yellow flag popped up. The Reliant Stadium crowd groaned. Chiefs' cornerback Brandon Flowers, having held down Johnson most of the day, applauded and fist-pumped. Flowers, along with pretty much every single one of the roughly 1.9 million people in the Kansas City metroplex, thought it blatantly obvious that Johnson illegally pushed off to make the catch.
The refs, however, called defensive pass interference on Flowers, a penalty SI.com's Peter King deemed worst of the year, serving Houston the game on silver tray. Five plays later, Schaub found Johnson one more time—in the end zone.
In the Anger stage, denial stops and people start looking for someone to blame. In football, that usually means the officials—like Brandon Flowers going utterly, wildly, cartoon-steam-from-the-ears ballistic on the sidelines, screaming in an official's ear. That anger begat anger, of course, prompting texts like "Stupid B.Flowers needs to shut up before he gets kicked out of the game!" Very often, coaches are blamed, as in, "How could Charlie Weis possibly call two consecutive pass plays when Houston hadn't stopped the run all day?!"
The deeper an individual sinks into the anger stage, sadly, the less rational the arguments become. Like this one idiot fan who stood suddenly and screamed at the screen, "What kind of freaking stupid name for a football team is 'Houston Texans,' anyway? Anyone who lives in Houston is, by definition, a Texan! That's like calling your football team the 'Pensacola Floridians' or 'Laramie, Wyomingites.' Geez! Man, that is a stupid name for a football team."
Okay. Truthfully? That idiot fan was me. No one is immune to the Five Stages, people.
As the Chiefs' final, soon-to-be futile drive began, so did the Bargaining stage. Hoping to invoke a reversal of fortune by miraculous, divine intervention, fans make deals with their Higher Power, swearing to give up a bad habit like smoking or drinking—or perhaps sacrifice a bodily organ—if the Almighty could see fit to grant the club a victory. For polytheists, the little-understood, but much feared "football gods" must be appeased by the ritualized switching of seats or ceremonial turning of the hat backwards.
Depression comes with the final gun, when the black cloud of defeat sets in, as evidenced by texts like "Those losers!" or "Same old Chiefs."
In this stage, fans often become silent, refusing to even speak about the game, to watch any more football that day, or even wear anything with a team logo on it.
At last, around mid-afternoon the next day, came the final stage: Acceptance. That's when Chiefs' fans remembered that their team won precisely six games total in the past two seasons, and hasn't made the postseason since a 2006 Dick Vermeil-coached club backed into a fluke wildcard. The team hasn't claimed victory in a playoff game since 1993. That game was also played in Houston. But against the Oilers. In the Astrodome. Hey, when a win came in a building that no longer exists, against a team that since moved to a new city—twice—things haven't been going well.
Now, while fans expected the same this year, the team instead sits at 3-2, a precarious yet lofty perch atop AFC West, heading home to the revitalized Arrowhead for a pair against the toothless Jags and stumbling Buffalo. Still, with football, you never know. The Denver Broncos started 6-0 last year, yet somehow managed to be stuck at home in January. Therein lies the big difference between the Five Stages of sports grief and the real kind. Most people only must truly grieve once or twice in a lifetime. NFL fans can have to go through this kind of emotional turmoil every stinking week of the season.