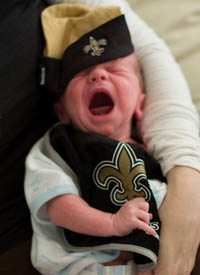 storyvillegirl/flickr
The Kübler-Ross grief cycle, more commonly called the "Five Stages of Grief," describes the distinct emotional phases most people go though when mourning a great loss. But the Five Stage model also applies in other life events. Like a bad breakup, for instance. Or if your talk show gets canceled, ala' Dennis Miller. Or when a professional football team loses an NFL regular season game. Like Sunday, when the football-mad people of Kansas City suffered a horrendous tragedy when their beloved and finally resurgent Chiefs gave up a heartbreaking, 35-31, snatching-defeat-from-the-jaws-of-victory loss in Houston. From a careful reading of the mountains of text messages and Facebook updates yours truly saw before, during, and for an entire 24 sullen hours after Sunday's game, we can reconstruct Kansas City fans' emotional journey—and see it as a model for how other sports fans handle traumatic games.
In control for most of the contest, the Chiefs capped a fourth quarter scoring drive with an 11-yard run by Thomas Jones to go up 31-21 with 7:05 left. But a short kickoff by KC was returned 26 yards by the Texans' Vonta Leach, setting up the Arian Foster TD a few plays later that cut the Chiefs' lead to 31-28 with 3:30 to go.
Denial, in the Kübler-Ross model, is a psychological defense. Used by people facing bad news, the idea is pretty much to ignore a problem and hope it goes away. In the case of KC fans, the classic refusal to face reality manifested itself in text messages like, "We've still got this game," and "There's no way we're losing!" and "Just one first down. The game is over."