'Modern Family' Confronts Heaven, Hell, and Golf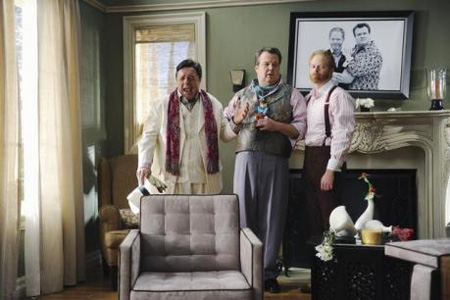 ABC
Jumping off Glee's exploration of faith this week, last night's episode of Modern Family featured an earthquake that set its characters off to explore their own moral convictions. Manny contemplates the existence of heaven and hell with Jay, Phil tries to take advantage of his wife being trapped in the bathroom with the plumber to fix the cabinet he'd told his wife he'd taken care of, and Mitch and Cam try to use the quake as a get-out-of-party-free card. Some take-aways from the episode:
If you say you've fixed something when you haven't, it will backfire. After putting off Claire's pleas to anchor the cabinet in the living room to the wall, Phil had to make up an excuse—"It finally reached the point where I had no choice, I had to roll up my sleeves and tell her I did it"—that would no doubt hurt him later. It took Luke nearly getting caught underneath the toppled cabinet for Phil to realize that there was just one way to remedy the situation.
Heaven and Hell might seem the same, but, don't worry, the bad people are in another section. Manny decides to skip church (risking Gloria's wrath) to join in on Jay's way of connecting to God: in "nature," on the golf course. Of course, when you take a reflective, soul-searching kid to a golf course...
The best excuse to get out of a dinner party: Tell someone you're hopelessly in love with them. The wonderful Nathan Lane showed up as Pepper Salzman last night, known for his elaborate and lavish costume parties like "Studio 54th of July" and "Seder-day Night Fever." Mitch and Cam see the earthquake as the perfect excuse to get out of attending his "Oscar Wilde and Crazy Brunch," but are quickly caught in a pickle after Cam buckles under pressure and blurts out that Mitch is injured, prompting Pepper to throw on his cleaning outfit and run over to help. Cam screws up yet again, blurting out that Mitchell is, in fact, just fine and turns to Mitch to save the day. "You're like a mob wife," Mitch points out to Cam. "You look down on me and my mob ways but you're happy to wear the mink coat that fell off the back of the truck." The way the situation is amended (and the look on Cam's face!) is priceless.