'Modern Family' and Gay Marriage: It's Complicated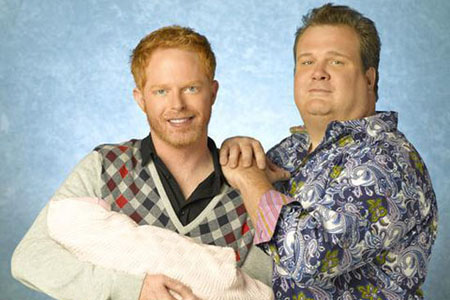 ABC
In a slightly depressing column on sex and television earlier this week, Washington Post TV critic Tom Shales singled out Modern Family for its portrayal of gay characters. The show, he said, "depicts a gay-male marriage in which both partners are refreshingly dimensional, believable human beings...they're not flawed in the silly, stereotypical ways that once dominated such portrayals." This statement highlights both how far Modern Family has come—and how far it still has to go when it comes to gay couples in relationships.
Eric Stonestreet—the actor who plays Cam, one half of the couple Shales praises in his column—told me he's proud that the show treats his character's family like an equal corner of the three families who make up Modern Family's supporting triangle. He appreciates that the series doesn't need to dwell obsessively on the fact that the show portrays a loving, healthy, stable family headed by two gay parents. But there are limits to that normalization.
While the parents in the other two families regularly touch, kiss, and demonstrate clear, ongoing sexual lives, Modern Family's creators made a big deal over creating a storyline to explain why Mitch and Cam are rarely seen touching, much less flirting, kissing, or displaying other obvious signs of sexual attraction. And in that storyline, the show whiffed. Rather than having Mitch overcome his fear of public displays of affection, the episode shoehorned in a sly kiss so quick that many viewers missed it. It's alright for the audience to know that gay couples kiss. But apparently, the calculation is that, we're just too jumpy to actually watch a very realistic middle-aged and half-overweight gay couple share even a relatively chaste smooch on center-screen.
And the show walks an interesting line on questions of gay identity and sometimes misses out on opportunities to confront homophobia. In last week's episode, "Earthquake," Cam and Mitch took shelter under the table dressed in costumes for an Oscar Wilde-themed brunch. Mitch insisted the couple couldn't die in the quake because "if they find us in these outfits it's going to be very bad for the gays." It was a self-aware little line about the gay community's own internal debates about perception and reputation. But it acquired a sour note later in the show when Nathan Lane showed up to portray an overdramatically swishy stereotype of the kind Shales commended Modern Family for avoiding.
It wasn't the first time Modern Family has mocked one kind of gay performance to showcase the normality of a gay family. In a first-season episode, the characters assumed a friend of Jay, the family patriarch, was gay because of his mannerisms. Rather than convincingly debunking their assumptions, the show let hang the implication that the man was simply deluding himself.
And in an episode earlier this season, a nasty fight between Mitch's nieces Haley Dunphy and Alex Dunphy reached a touchy note when Haley suggested that Alex was a lesbian. Haley's mother chastises her for using sexual orientation as a slur, but how much more interesting would the scene have been if it had occurred in front of Cam and Mitch? There's no sign that Haley doesn't love her uncles and her adopted cousin. Her slip into a casual, homophobic teenage mindset isn't shocking. It's an example of the kinds of compromises straight Americans make around sexual orientation all the time, loving family or friends without fully committing to their struggles for legal and societal equality.
The show made a joke of Mitch's response to perceived homophobia in the earliest minutes of the series' premiere episode. But if he'd been in the room when Haley had her slip, the scene could have validated his fears of homophobia—and challenged his extended family—by revealing the gap between how much the Duphys love Mitch, Cam and Lily, and how much they're still influenced by larger societal views of gay people.
Most importantly, there's a factual error in Shales' assessment of Mitch and Cam's relationship: they aren't actually married, something Stonestreet confirmed for me. This is actually more glaring than the lame kiss or the bungled identity issues—especially since the show is set in and around Los Angeles, where Mitch and Cam could have gotten legally married at some point. Their need for the legal protections and benefits of marriage may not be particularly urgent as long as the show sticks to generally light-hearted topics (somehow, I don't see Modern Family confronting issues like hospital visitation rights). But given that the couple is raising a daughter, the legal state of their relationship has implications for her well-being and future. As of 2005, more than 270,000 American children were being raised by same-sex couples. It's not a particularly radical thing to show a gay couple raising a child together anymore. But at a time when equal marriage rights are a state-by-state battleground, Modern Family might considering making Cam, Mitch, and Lily legally, as well as socially, equal with the other families on the show.
There's no question that Modern Family's gay family is deft, well-sketched, funny and sweet. Mitch, Cam, and their daughter Lily are a triumph for good television writing, as well as for equality. But the truth is, for reasons of law and of prejudice, their family is different. If Modern Family's to truly embrace parenting and married relationships in all their forms, the show has to acknowledge the challenges that come with those differences, along with the joys.