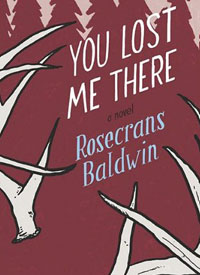 Riverhead Hardcover
You Lost Me There, the debut novel by Rosecrans Baldwin, was released in August to reviews that praised the book's treatment of grief and desire, as well as Baldwin's quiet, moving prose.
Baldwin, the 33-year-old co-founder of the online magazine The Morning News, talked to The Atlantic about his book, and the life of a writer.
---
You Lost Me There is novel about a man who discovers that his memories and understanding of his marriage are entirely different than his wife's. What did your wife think about that?
Well, you'd have to ask her. I think it rang true for her, not because it's reflective of our relationship, but because it's true for Victor and Sara, the characters. My wife is the first to read all my drafts, so she's used to treating fiction as fiction, or at least trying to.
How did you initially conceive of your narrator, a prominent neuroscientist in his late 50s, given that his experiences are so different from your own? Victor came from a picture. Where the picture originated, I don't know, but it popped up in my mind and it stuck there. It's late at night. There's an older man in a parking lot seeing a younger woman get into her car. He wants her, but he can't have her, and I was wondering what it would be like for him to know that she's completely unavailable. Not necessarily sexually—in fact, I was pretty sure they were sexually involved—but more deeply. For some reason there's a chasm between them he can't bridge.