'Mad Men': Lust and Loss at Sterling Cooper Draper Pryce
With the agency on the brink of financial ruin, the characters all react in their own ways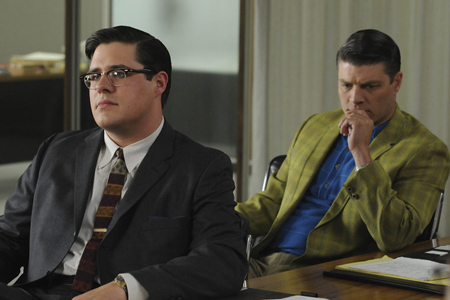 AMC
The fourth season of Mad Men is in full swing, exploring the aftermath of the creation of Sterling Cooper Draper Pryce and the dissolution of the Draper marriage.Richard Drew, Danielle Robinson, and Catie Cambria—to provide their takes on all the sex, the clothes, and of course, the drama.

They weigh in on this week's episode, in which an agency-wide meeting shakes up Sterling Cooper Draper Pryce.

Richard Drew (TV producer and creator of the blog Remote Patrolled): Tough times at Sterling Cooper Draper Pryce this week as the lost Lucky Strikes account puts the fledging company on the verge of financial ruin. And of course when the pressure's on people's true natures are revealed.
For Don that meant a return to his womanizing ways, this time hooking up with his latest secretary Megan (sleeping with the boss seems to be a requirement for being Don's assistant). I actually debated with my partner why these women seemed so intent on hooking up with Draper—and then moments later received my answer—in the shape of Sterling's wife (and former Draper secretary), Jane, reclining on her sofa, now a lady of leisure.
And speaking of Roger, it was interesting how weak he became when backed into a corner, lying to his colleagues and turning once again to his soul-mate, Joan. Over the course of a season Sterling has gone from an advertising world "legend" to a company punch line. As Cooper correctly observed, Lucky Strike didn't take him seriously, as he never took himself seriously. A key theme of this season has been the crumbling of the old icons.
And then there was Peggy, still saddled with the loathsome director Stan, who allowed her to make an entire Playtex presentation with smudged lipstick on her teeth. But I was most surprised by Peggy's nonchalant reaction after the truth was revealed. I was expecting fireworks but Peggy simply shrugged the incident off, displaying a maturity in the face of pressure not shown by her (male) colleagues. I can't wait for the day when Peggy gets to call the shots...
Catie Cambria (fashion publicist at Donna Karan New York): Isn't it delightfully ironic that the only one who seems blissfully unaware to SCDP's crumbling is Peggy? The episode opens with her fresh off the beach, looking lovely and undone when the scorned Abe appears in Joyce's car. She beds him and refuses to let him to leave until she has him again, and even submits to having sex with him in the office after she hears the news about Lucky Strike. Where is the anxious, workaholic Peggy we know and love? Regardless, it's refreshing to a see a character on this show do something unexpected, especially since this episode reminded us that Don will continue to be Don and Roger will continue to be Roger.
We all knew after last week's episode what the Beatles fade-out music and Don's longing glance at Megan signified. I was only surprised by her brazen pursuit of Don after-hours, and how quickly he submits to it. Megan talks about herself as "artist," though her description of makes her sound more so like a dilettante. Megan usually seems like the pretty, helpful secretary; in the scene with Don, she never seemed less pretty or more desperate. I even felt her clothes, which are usually impeccable, looked cheap and garish (the orange and hot pink blouse made me cringe.)
Roger continues to shirk all responsibility and come crawling back to Joan, who at least for now states that she "can't do this anymore." Roger has lost both Lucky Strike and Joan, and it's fitting that he ends up at home with his young, silly wife and bound copies of his memoirs, all that he has left. He sits there, his eyes and soul seemingly vacant, unable to summon emotion or courage.
And isn't Don the same way? He has sex with Megan in his office, and then heads home to find Faye waiting, apologetic, and with a new account for him in the wings. Barely a word of gratitude or remorse passes through his lips.
Danielle Robinson (account director at New York advertising company Footsteps Group): I couldn't help but feel a bit of sympathy for Roger Sterling as he tried to navigate the sea of emotions stemming from the departure of Lucky Strike. In an effort to deflect blame from the agency partners, he fakes a phone call to Lee Garner, Jr. and then pretends to travel to North Carolina to save the business. The same ego that wouldn't let Roger hand over Lucky Strike account duties to Pete is the same ego that won't let him part ways with the account with integrity. Compounding this pathetic show of self-preservation is the fact that Joan has (once again) ended their affair. Perhaps the two things Roger was most familiar with—Lucky Strike and Joan—have suddenly abandoned him. Perhaps, as Burt indicated, it's because he never takes himself seriously, so why would anyone else?
Meanwhile, Peggy completely and confidently takes the creative lead on Playtex and successfully presents a new ad campaign to the client while Don focuses on getting new business. She is unflappable in her ability, and we sense Don knows this. Don finally conquers his new secretary (surprise!) after he tries to force Faye's hand to give up the names of clients who are unhappy at other agencies. She initially refuses to jeopardize her career for his but later sets up a meeting with Heinz for him. Like Don, I wish she hadn't. Now she's that much more on the same playing field as the other women who give in to Don's desires at the expense of their own.
Past Mad Men panels:
'Mad Men': Love and Death at Sterling Cooper Draper Pryce
'Mad Men': Times Change, but Sadness Remains the Same
'Mad Men': The Don and Peggy Show
'Mad Men': The Rise and Fall (and Rise?) of Don Draper
'Mad Men': Bad Behavior All Around
'Mad Men': One-Liners, Sex Talk, and Nude Photography
'Mad Men': A Not-So-Happy New Year
'Mad Men': The Beginning of the End for Don Draper?
'Mad Men': 4 Takes on the Season Premiere
To help make sense of it all, we have a panel of insiders from the worlds of television, advertising, and fashion—