'Leaves of Grass': Edward Norton's Tribute to Pot and Walt Whitman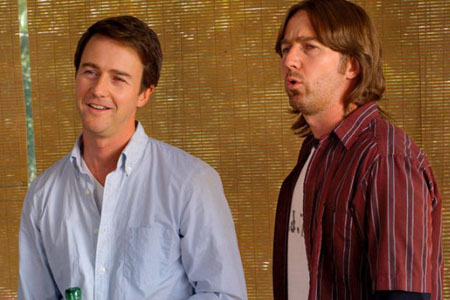 Millennium Films
The story behind the theatrical release of Leaves of Grass, a woolly dark comedy starring Edward Norton as a pair of polar-opposite twins, is its own comedy of errors. The film was set for a sort of last-resort for-posterity release on April 2, only to be acquired at the 11th hour by a new distributor, Telepathic Studios, that pledged to give the star vehicle a much wider opening. This change was so last-minute that Norton had to cancel already-scheduled late-night-TV appearances, and New York magazine and The Village Voice had already gone to press with reviews before the sudden yanking of the film. When Leaves of Grass finally did open last month in limited release, it might have occasioned an acute case of buyer's remorse at Telepathic: The film's domestic gross stands well below the $100,000 mark.
This is not to suggest that Leaves of Grass arrives this week on home video with full diamond-in-the-rough status. It's too heavy on the quirk and too crammed with frantic incident to cohere as a satisfying whole. But this is another appealingly ambitious, unpretentiously intellectualized mash-up from writer-director Tim Blake Nelson, whose O (2001) set Othello against a backdrop of modern-day high-school basketball and whose harrowing Grey Zone (2001) considered the moral dilemmas of Auschwitz's Sonderkommandos, Jewish prisoners charged with keeping the camp's crematoria in working order. Much less dour in mood than these other films, Leaves of Grass—which gets its title from both weed and Walt Whitman, whose barbaric yawping informs the film's shaggy free-verse structure—bears the roll-with-the-punches geniality of some of Nelson's most memorable work as a character actor (he played the outlaw rube Delmar in the Coen brothers' O Brother, Where Art Thou?).
Nelson, who also performs in Leaves of Grass in a sidekick role, begins his new film with rather by-the-numbers madcap comic scenes of mistaken identity and fish-out-of-water incongruities before spiraling outward into altogether less-predictable territory. Ivy League classical philosophy professor Bill Kincaid (Norton), a golden boy to his peers and a heartthrob to his students, is summoned home to small-town Oklahoma when he learns his estranged pot-dealing twin, Brady (Norton), was murdered with a crossbow ("They're inexplicably popular where I'm from," he tells a nosy department administrator). Before long, Bill realizes Brady is alive and well, and just trying to finagle a few days of brotherly togetherness—and enlist his help in a massive drug deal. The differences between Bill and Brady are perhaps best summed up by their sartorial choices: The latter wears a sweater vest; the former lets his long hair fall to the shoulders of a T-shirt with blue iron-on lettering that reads "Baby you're in for a treat." Bill lives for parsing Socrates and Lacan, Brady for perfecting the science of hydroponics, but the big recurring joke here is that the unreconstructed hick has a higher IQ than his ivory-tower-dwelling brother.
As Brady's schemes go violently awry in Tulsa, back home Bill falls for a local Whitman-inspired poet (Keri Russell) and repairs his relationship with his mother (Susan Sarandon), who has prematurely checked herself into a nursing home. The moral of the story seems to be that you can't go home again, until you do, and then there's no going anywhere else. The film makes enough convincing parallels between high-flown classroom philosophy and insight of the arm-chair, bong-hit variety that this final circling back toward folk wisdom never feels patronizingly reductive.
For all the clever little things Nelson does here, though, his star makes the movie. Some of the early Norton-in-the-same-frame-as-Norton shots feel inevitably artificial, but the actor cuts loose with such apparent delight—especially as the perpetually hooting and hollering Brady—that the blocking doesn't prove distracting for long. It has been at least a decade since every Norton role felt like a bona fide event, and came burdened with the expectation of prestigious-awards recognition (his supporting-turn Oscar nomination for 1996's Primal Fear, the actor's motion-picture debut, catalyzed this untenable mythos of high selectivity). Since then, Norton has been more unflatteringly depicted as a control freak, a final-cut-hogging meddler who pretends to auteur status. (Marvel booted the Incredible Hulk star from its upcoming Avengers movie, claiming he didn't embody "the creativity and collaborative spirit of our other talented cast members".) So it's especially gratifying to watch him in the middle of a wildly careening film like Leaves of Grass, demonstrating his impressive range while never obviously swimming against the current of any single scene. The story's substance is barely controlled—a fact proudly announced by the movie itself—but Norton alone is reason enough to watch.