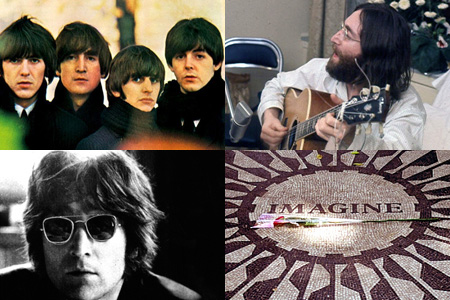 EMI/Wikimedia Commons/Capitol/flickr
There is a scene in the movie The Breakfast Club where the teacher, Dick Vernon, asks Carl the janitor what he wanted to be when he was a kid.
"When I was a kid," Carl says wistfully, "I wanted to be John Lennon."
"Don't be a goof." Vernon says. But you can tell by the look on Carl's face that he was serious.
Can you blame him? Who didn't want to be John Lennon? Lennon did it all. First. He was the leader of the best rock band ever. He wrote sweeping anthems and breathtakingly fragile love songs. He had a savage wit, yet epic compassion. He went from teeny-bopper superstar to global icon to conceptual artist, activist, and revolutionary—toying with the machinery of fame while supposed pioneers of postmodern media manipulation like Madonna and Bono were in diapers. Lennon was spied on by the Nixon administration, fought to stay in the country, and won. He detoxed decades before it was fashionable, going from a self-described terrible father to an exemplary one—the world's most famous househusband, pioneering again.
Let's put it this way: Other artists got haircuts. Lennon shaved his head—then donated the clippings to a cause. Or consider this: for a brief time in the late 1960s, John Lennon owned a psychedelic Rolls-Royce. Just exactly how deep into the acid-soaked zeitgeist—the one he helped create—does a guy have to be for buying a custom-crafted psychedelic Rolls limo to sound like a good idea?
That was Lennon. He had one speed as an artist—more. His creative aesthetic was as straightforward as it was demanding: Whatever you do, do it full-bore, full time. Dig for the deepest truth you can possibly find, and convey it with every resource at your command. If the times call for psychedelic imagery, you paint a Rolls crazy colors. If the times call for peace protests, you pull every stunt you can dream up to garner media attention. If the times call for retrenchment, devote five years of your life to baking bread, raising a son, and watching the wheels while your contemporaries are still riding upon the merry-go-round.
Expose the deepest pain imaginable by singing about your mother's death? Why not? It happened. Admit to a reporter that you wrote the song "Cold Turkey" about coming off heroin? It's true, isn't it? Publicly compare the Beatles to Jesus Christ? In retrospect, not such a good idea. But he was thinking it, so he said it. He spoke his truth. Do they even make stars like that anymore? Nope. And they never did. There simply has never been another entertainer of Lennon's magnitude so completely committed to expressing the truth as he saw it.
Mostly, he was just plain better than the rest. Better at music. Better with words and melodies. Better at finding new sounds and new ways to record them. Only Bob Dylan compares as a songwriter—with Lennon's visceral, gut-level approach often making Dylan's brainy arabesques feel like the long way home. Also, let's face it, Dylan is an awful singer. Lennon, almost incidentally, had one of the best voices in rock.
Lennon had only been dead five years when Carl the janitor admitted his teenage dream, and it is telling that the line was in a movie made for Generation X. Most famously dead Boomer rock stars—Janis Joplin, Jimi Hendrix, Jim Morrison, John Bonham, Keith Moon—had already passed away before the first X'ers hit cultural consciousness. They—along with older stars like Marilyn Monroe and James Dean—already belonged to pop culture's morbid pantheon. And most of those Boomer stars died from nothing especially tragic, nothing more than self-inflicted excess. Not Lennon. His death was in living memory of most Gen Xer's—and it was an appalling, horrific event.
After years of self-imposed exile, he had suddenly emerged with shimmering new music, the Double Fantasy album—mature, elegant songs like "Woman" and "(Just Like) Starting Over" instantly becoming radio staples, heralding a new, perhaps less frantic, but happier and more productive phase of his career. Then it stopped. The artist, activist, husband, and father was murdered. A confused little man stepped from the shadows, emptied a gun, and destroyed a genius. The world reeled and sickened. There wasn't even cold comfort to take in a random death. Lennon was hunted by a fan—then a very new, horrifying phenomenon, now simply seen as a sick but inevitable consequence of celebrity in the mass media age. Lennon, setting trends as ever, even in his ghastly death.
A few years later, in the song "Annie Christian" on the 1981 album Controversy, Prince would cry out, "They killed John Lennon! Shot him down cold!" Sure, everyone knew that Lennon's assailant was not a "they," but merely one sick soul. Logically or not, it felt as if John Lennon was murdered by his own fame. Too much love can kill you, as Queen would later sing. The guilt for Lennon's death was therefore collective, and Prince's cry expressed some irrational, but very essential truth about the world that Generation X felt itself inheriting. A comedian once said that the difference between Baby Boomers and Generation X is that Boomers got the Sex, Drugs, and Rock & Roll, while Gen X'ers got the AIDS, Crack, and Britney Spears. To which we could also add that Baby Boomers got John Lennon's life. His death belongs to X.
It isn't all doom and gloom, though. With the 70th anniversary of his birth this Saturday, it's more fitting to celebrate Lennon's life than mourn his death. It certainly seems that John, famous for an absurd and barely controllable sense of humor, would have wanted parties and not wakes. The world is obliging with tribute concerts from Los Angeles to London, with new movies—including a Central Park screening of the PBS documentary LENNONYC, surely the first film in PBS's American Masters Series ever made about Liverpudlianin.
Lennon's widow Yoko Ono and younger son Sean will be in Reykjavik, Iceland, for a concert and to unveil and ignite the dazzling Imagine Peace Tower. Older son Julian and John's first wife Cynthia are dedicating the new Imagine Peace & Harmony monument in Liverpool.
We want to strike a positive note as well—or even a few silly ones—with a collection of Lennon covers. One of the marks of great songwriters, of course, is that their music lends itself well to other voices. Certain tunes, songs of truly universal appeal, are recorded hundreds and even thousands of times by artists the world over. This leads inevitably to a few flashes of genius, and hours upon hours of genuinely ear-splitting, stultifying, soul-sapping, monumentally unlistenable dreck. Like these, the Ten Worst Covers of John Lennon Songs Ever:
William Shatner, "Lucy In The Sky With Diamonds"
Gwen Stefani, "Strawberry Fields Forever"
Michael Jackson, "Come Together"
Sean Connery, "In My Life"
Kylie Minogue, "Help"
Leo Sayer, "I Am the Walrus"
Duran Duran, "Instant Karma"
Roger Waters, "Across the Universe"
Jonas Brothers, "Drive My Car"
Frankie Howerd (and funky robots), "Mean Mr. Mustard"
And, finally, bonus material! The top three, that is bottom three, worst all-time covers of Lennon's brilliant, utopian, but ridiculously overplayed, over-sang and over bumper-stickered song, "Imagine"—the versions by David Archuleta, Lady Gaga and this diabolically, gloriously bad take by Shirley MacLaine.
Now, please, we must never speak of these things again.