'How I Met Your Mother': Gender Wars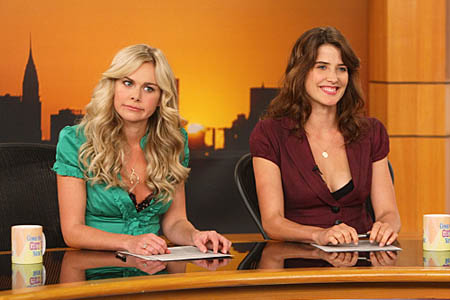 CBS
This week's How I Met Your Mother was about men, women, boys, and girls. In a surprisingly coherent blending of the A, B, and C stories, all of the characters were forced to consider gender in some way. While brainstorming baby names Marshall realizes, as many men eventually do, that if he had a daughter, he'd have to worry about men treating her the way his friends treat the women they pursue, and he's practically paralyzed by the thought.
As Marshall struggles with visions of his hypothetical daughter dating a Barney-like creep and headlining a strip club, Robin tries unsuccessfully to rally support for her hatred of her new childlike co-anchor Becky (played by Laura Bell Bundy, best known as Elle Woods in the Broadway version of Legally Blonde). In Becky's world, acting helpless, silly, and confused all seem like reasonable ways to attract men and viewers.
Becky's childish tendencies are exaggerated to a degree worthy of a Terry Richardson photo shoot, but instead of Lea Michele coyly playing with a lollipop, we see Becky outfitted in a short velvet jumper with white knee-high socks and saddle shoes licking a double scoop ice cream cone. And we discover that even Ted thinks the little girl act is somewhat charming because it allows him to feel needed—something that he never felt with Robin.
NBC's Community addressed a similar theme in a less cartoonish fashion a few weeks ago with Annie assuming the role of the wide-eyed innocent in a cardigan as a contrast to Britta's cynicism and reason. hen these two styles are forced to fundraise opposite one another, Annie wins, and so does Becky, it would seem.
Things wrap up nicely in the end. This is sitcom land after all. Robin isn't left to wallow in her own self-sufficient misery. Barney steps in to reassure her that her independence is in fact appealing to him (another sign that they will end up together?). Ted eventually tires of the little girl act, and Marshall and Lily agree, momentarily at least, on a gender-neutral name—Jamie. It is worth noting that we didn't see any sort of resolution to Marshall's fear of having a daughter, so we should expect this theme to reemerge later in the series.
>