'How I Met Your Mother': Desperately Seeking Woody Allen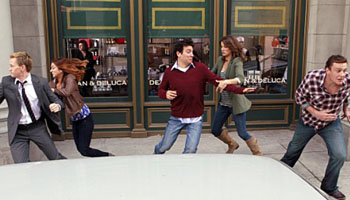 CBS
On this week's How I Met Your Mother, the group attempts to define what makes someone a real New Yorker. They come up with a few criteria: crying in the subway without caring what others think, stealing a cab from someone who really needs it, killing a cockroach with your bare hands, and perhaps most importantly, seeing Woody Allen about town.
This final point kicks off the action of episode; They find out from a friend that Woody Allen is eating at a restaurant downtown, and Robin decides to defend her honor as an aspiring New Yorker by taking the opportunity to see him.
After everyone manages to disagree on the best way to get downtown (bus, subway, cab, foot) they all set off on an It's a Mad, Mad, Mad, Mad World-like chase. It was mostly silly (Marshall's run downtown, set to a folk song about man versus machine), occasionally amusing (the running gag of Maury Povich literally being everywhere), and surprisingly clever (a nod to the classic Woody Allen font used as a transition between scenes). In the end, Robin accomplishes nearly all of the tasks except the main one. "Woody Allen" turns out to be Maury Povich.
The main problem I had with "Subway Wars," though, were the desperate attempts to define New York life. For a show that is written and shot on a soundstage in Los Angeles, rooted in a very loose version of reality, and that competes with decades of well loved New York-based sitcoms, all of the "inside New York" references came across as slightly pathetic. We don't look to sitcoms to paint how we all experience life. In an attempt to make the absurd characters like Barney Stinson seem part of our actual world, HIMYM often calls attention to how fake the show's construction is. I'm fine buying into this most of the time because I find the characters extremely likeable and the corny sitcom tropes mostly tolerable. But who can really enjoy a show when they're being forced to draw on their own experiences to verify if the M7 really is the best bus route downtown?