ESPN to Launch Women's Brand: What's Good, What's Bad, What's Puzzling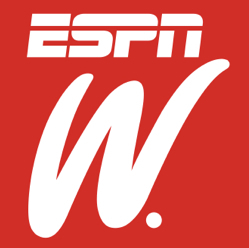 ESPN
Multimedia sports behemoth ESPN is trying to attract a new audience: women. The company is launching a new "sub-brand" called ESPN W that will start out as a blog and may turn into its own channel—for now, there's just a Twitter feed.
ESPN W is already stirring up controversy, and it's bound to generate more when the new blog actually launches. But for now, whats good, bad, and puzzling about the venture?
The good: Any time women are recognized as sports fans, it's good news. Almost 40 years after the passage of Title IX, we have nearly two generations of women who grew up playing sports and rooting for their favorite teams and athletes. But there aren't many (any?) publications that cater to an audience of female sports fans. Magazines like Self and Shape promote female fitness and participation in athletics, but they don't speak to women as fans.
More good news: The logo is a bold, tasteful red—not the predictable female-signaling pink.
The bad: As a blogger on the site Chicago Now put it, "Women already HAVE an ESPN. It's called ESPN." In other words, women who like sports can just watch sports—they don't need a special channel to feed them coverage or make sports more palatable.
Messages from the @ESPNW twitter feed like this one—which sings the praises of luxury sportswear brand Lulu Lemon—do not bode well for the quality of ESPN's women-centric coverage.
The puzzling: It's not entirely clear what kind of coverage this new brand will offer. Will it focus solely on female athletes? Or will it feature stories that women are drawn to, regardless of whether they are actually about women?
Women are not necessarily interested in stories that are only about women. Case in point: the ESPN program with the highest percentage of female viewers is The National Spelling Bee, which features both male and female participants. Wimbledon coverage, which also includes both men and women athletes, has the third-highest female percentage. It seems like a tricky, potentially problematic task to determine what programming women want.