Eliot Spitzer's Strange Hold on Pop Culture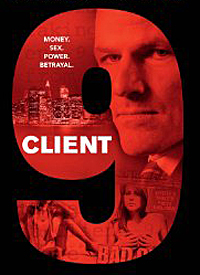 A&E Indie Films
Alex Gibney's documentary Client 9 gets released today on iTunes. It's fascinating to me the hold that Eliot Spitzer's transgressions and loss of his former job as New York's governor seem to have taken on our popular culture. His downfall is essentially mundane, the result of an immature lack of sexual morality or control that seems entirely too common in powerful men with access to lots of money. Cheating or other sexual misbehavior is only interesting these days if involves really substantial hypocrisy, if its revelation entirely reverses our understanding of who the cheater is. The accusations against Bishop Eddie Long provide a totally new reading of who the man is, and what the purpose of his ministry was. Even after finding out that Spitzer was a cheat, and that his method of cheating was hiring prostitutes, he was still a proud, somewhat rigid, intellectually and politically combative man.
And while Spitzer lost his governorship, he's actually returned to polite society rather quickly. He landed a
Slate column
and then a
television hosting gig
. His marriage is intact. Andrew Cuomo took up his crusades after succeeding Spitzer as New York Attorney General. It's not clear that the state would have been any more or less of a mess had he remained governor. So what about this story has given it such a cultural shelf-life?
My sense is that the reason
The Good Wife
took the events of Spitzer's undoing as its frame device was simply that it was the most recent heterosexual political sex scandal available. It's not really a show about Eliot Spitzer, but Spitzer was proximate and convenient, and it provides a story of a wife somewhat less extraordinary than Hillary Rodham Clinton who stayed with her straying husband. It's really about the political wife, the woman who doesn't leave, who is alternately reviled as a doormat and praised for her fidelity but whom nobody really understands, or who wants to understand if it means standing alongside a podium, giving up our dignity.