'Community': Wrestling With Death and Donuts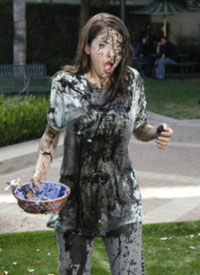 NBC
The study group may be safe from the tactics of their first anthropology professor (Betty White sure can choke a guy), but the semester's far from over. Fortunately, Professor Ian Duncan took the reins in what turned out to be a break from his day job. "Wow, I thought psychology was a racket," he declares, cheerfully faking anesthesiology classes to entrance hot coeds and using the Force against Chang. But he wasn't the only person who learned the limits of his powers, as Jeff took a blood test, Pierce's mother, er, moved on, and Britta and Annie got an education in fundraising. Here's what we can take from their mistakes:
1. Eat the donuts. Jeff was shocked by the unfairness of it all when he learned that despite his years of vigilance, and near-naked upside-down situps he's still going to age and die. "It's made of hamburger," his doctor tells him. "This is a temple of doom."
2. Being busty will get you everywhere. It will get you called on in class: "You, in the boobs," Professor Duncan calls Annie. Boys open their wallets for Gulf Coast relief. And having past back trouble just makes you better at displaying them. That said, you risk getting into campus oil wrestling matches with your study buddy if you use them injudiciously.
3. You've gotta go out with energy and style. The thought of death may leave Troy weeping, Shirley nervous about the east stairwell, and Jeff cursing the universe's injustice. And Pierce may believe the earthly remains of his mother reside in a lava lamp. But the lady herself was certain of her exit—and made it to Young Jeezy.