'Community': The Nerds Shall Inherit the Earth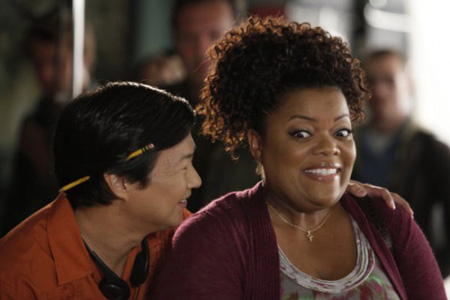 NBC
It was an evening of reversals at Greendale Community College as Abed got a little too much religion and out-Scriptured Shirley, and Britta and Jeff found themselves in the uncomfortable position of acting as a regressing Pierce's parents. Professor Duncan may have surrendered all pretenses of teaching anthropology in favor of showing YouTube videos, but that doesn't mean the study group's educations went neglected this week. Among their lessons?
1. This rise of Charlie Kaufman aside, there's such a thing as too much meta. Shirley is the first to resist the premise of Abed's new filmmaker-as-Jesus movie, declaring "Come on, Charlie Kaufman, some of us have work in the morning. Damn!" But it takes the rest of the school a while to catch on.
2. If you're old, you can get away with anything: playing illegal poker and calling it a memory aid, drinking bad alcohol ("If you get caught with this, just say it's your 90th birthday. Then it's adorable," counsels Leonard), steal cafeteria cookies—up until the point when you're not pretending to regress anymore.
3. The Nerds Shall Inherit the Earth. Abed may be the least conventionally socially skilled of the study group members, but he is undeniably one of the coolest dudes at Greendale. And he doesn't even need the momentum of his movie to generate his charisma. "I don't even believe in God, but I love me some Abed," Britta declares, quitting Shirley's religious viral video project to follow Abed into meta-land.
4. No matter your religion, the Bible is undeniably narratively awesome. "He was like ET, Edward Scissorhands, and Marty McFly combined," Abed declares after a speed-reading of the New Testament.