'Community': Looking to Life After College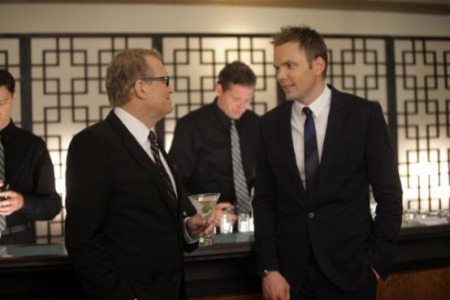 NBC
The students at Greendale make community college look like such a cracked idyll that sometimes, it's easy to forget that our study group members enrolled in school in the hopes of getting somewhere else. Troy is bound for plumbing greatness. Abed's going to redefine the sitcom. Shirley's on her way to being the Paula Deen of baked goods. And Jeff Winger, our slimy, be-abbed hero, wants to get back to his old law firm. Which he almost does tonight when an old firm pal shows up on campus for a Narcotics Anonymous meeting, bringing a number of sweet—and sour—lessons along with him.
1. German heritage is best confined to sausages, and rarely plays well with hip-hop. When the Dean decides to combine a pop-and-lock festival with Oktoberfest, a hat craze sweeps campus, and Chang sees a way into the study group.
2. Chloroform is a great equalizer. When Troy and Abed break into Jeff's co-worker's office to prove who turned him into the state bar, they warn Annie to stay out of it. "If someone comes up here, Kanye and Kumar get taken to jail," Troy tells her. "You get taken to dinner." But it's Annie who has the guts—or nervous hysteria—to chloroform an interfering janitor twice to get the truth.
3. The legal system is full of peril. Once in the orbit of Jeff's old firm, the study group gets some crazy ideas. Fortunately, Jeff is still enough himself to set them to rights. "Britta, you're not a whore" he lectures them. "Shirley, Jesus turned the other cheek, he didn't garnish wages. Pierce, it's bad to hunt man for sport." No one's suing a stripper for alienation of affection or moving to Indonesia--this week, at least.
4. Being a grown-up is both awesome, and kind of awful. It turns out, Jeff built a life for himself that he liked as a lawyer, but at a serious cost to his decency. At the end of the episode, he heads back to Greendale and pop-locking semi-triumph. But what will he do when graduation rolls around?