'Community': Greendale Gets in the Space Race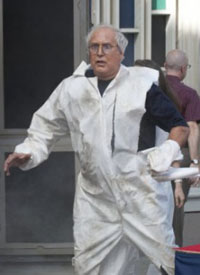 NBC
Most of the time, Greendale Community College is a bubble. Sometimes that bubble is a paint-filled wasteland. Sometimes it's a Biosphere 2-like haven for social experimentation. Sometimes it's a closed economy where the study group can become a chicken-nugget mafia. But this week, we got to see Greendale in outer space—or at least in competition with its fellow community colleges—when the study group got stuck in a space simulator on its way to the tow lot. Things the group learned, other than how to lock Pierce in a cage to fight off space madness?
1. The space race is still the most powerful metaphor for competition we have today. This episode wasn't as strong as last year's "Contemporary American Poultry," but the slow-mo astronaut walk, the tough landing, and the high momentum in a small space are all compelling cliches. "Pretty soon, they will have an astronaut...on their brochure," Dean Pelton warns on hearing that rival City College is beating Greendale in aeronautics.
2. The Dean is gay. We get it already. And we don't necessarily need cues like this one:
I hadn't thought about it until now, but in the cornucopia of racial and religious diversion and the identity-forming crucible that is college, it is a bit odd that Community doesn't have an openly gay main character.
3. Not all colleges are right for everyone. Community spends a lot of time grappling with the fact that some of the characters feel shame about being there. Jeff doesn't want to be back in college in the first place. Annie's in community college due to drug-addiction-related setbacks. Troy blew his chance at a scholarship out. But the show's subtly making the case that they're all happier, and learning more, here than they might elsewhere. "I guess you're just not City College material after all," the Dean of that school spits at Annie after she helps quash City College's space race bid. But instead of getting flustered, she just smiles, content, at least for the moment.