'Bored to Death': Starring Kevin Bacon as Himself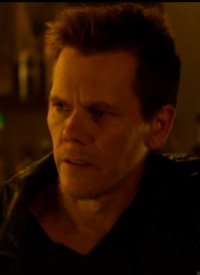 HBO
George Christopher: "In life, when in doubt, never meddle. It only causes problems."
Last week's Bored to Death saw amateur sleuth Jonathan Ames at an unprecedented level of competence. For once, his meddling actually paid off: he recovered a client's rare book, fought off three drugs dealers, and saved the insufferable Louis Green from a vicious (though somewhat satisfying) beating.
Unfortunately for Jonathan, his success appears to have been a fluke. This week's episode sees him in usual form—well-intentioned but completely inept—as he bungles new client Lakshmi's (Sarita Choudhury) straightforward case. Lakshmi's husband Vikram (Ajay Naidu) has been coming home late reeking of bacon, and she assumes he's spending his evenings with a bacon-frying mistress. Jonathan tails Vikram to a local diner and learns the real reason for Vikram's aloofness: in an economy that hasn't exactly allowed for luxuries, he's been laid off from his limousine-driving job. Vikram is stayining in the diner all night because he's afraid to tell his wife. As it turns out, he's right to be—when Jonathan talks him into leveling with Lakshmi, she throws him out.
Jonathan feels responsible for the dissolution of Lakshmi and Vikram's marriage, so he talks George into hiring Vikram as a personal driver. Unfortunately, they're too late; a despondent Vikram holds the diner at gunpoint just as Jonathan and George enter. George—who can relate to Vikram's career woes—talks him down, but accidentally fires the gun, prompting the three men to make a hasty escape.
Across town, Ray confronts sudden, unexpected success in his own career, as his Super Ray comic book continues to amass a following. Super Ray—which chronicles the adventures of a man who fights crime with his super-powered penis—has inexplicably attracted the attention of Kevin Bacon (guest starring as himself), who wants to produce and star in a film adaptation. During his meeting with Ray, Bacon reveals that he's a Method actor in the strictest sense; he informs Ray that he plans to move in with him and start wearing his clothes to get his "scent" right.
Unfortunately, Super Ray: The Movie is over before it's begun, as Ray grows increasingly agitated with Bacon's bizarre requests and thinly veiled insults. The final straw comes in the form of Ray's meddlesome, scorned fling Jennifer Gladwell (Kristen Wiig), who sets off a chain reaction that culminates in Ray accidentally socking Bacon in the nose. Bacon fumes, but in an impressive display of integrity, it's Ray who walks away from the project, telling Bacon that he's "not cut out to play Super Ray."
At this point in the season, Bored to Death has established a fairly consistent rhythm: Jonathan gets a case, blindly fumbles his way through it, and—somehow—everything works out. George is right about Jonathan's meddling only causing problems; fortunately for his clients, he also finds the solutions.
Most emasculating moment of the week: Catherine decides to cut George's treasured "By George" column from Edition in order to keep the astrology page. When George asks what his actual role at the magazine is, Catherine reassures him that he's "very good" at cocktail parties.
Literary reference of the week: George pitches a speaking tour that would position him as the modern Mark Twain—complete with "prosthetic moustache."
Next week on Bored to Death: George goes in for surgery as he continues to battle prostate cancer; Jonathan and Ray collaborate on a case.