'Bored to Death,' Life-Switching Edition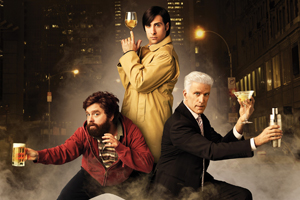 HBO
George Christopher: "Are you sure you don't want to switch?"
George may have referring to Jonathan's avocado-laden meal, but he could just as easily have been summing up this week's episode. Which of our leading men—socially isolated, sexually frustrated, and yes, bored to death—wouldn't want to switch lives with someone else?
Take nebbish hero Jonathan, who hits his first rough patch with Stella when she proposes a polyamorous relationship. Jonathan feebly protests ("We need to talk about this for months and never act on it!"), but it isn't long before he's fighting for spooning time with Stella's ex Warren. Warren is everything Jonathan isn't: vulgar, obese, and sexually confident. And not without reason—his (apparently enormous) member is enough to make Jonathan feel that he is literally the least-endowed man in the world.
Jonathan's sexual insecurity is manifested in this week's case, when he's hired by Richard Antrem (guest star Oliver Platt) to catch his cheating wife in the act. Antrem is both a rival publisher and the current husband of George's ex-wife Priscilla (Laila Robins), so Jonathan is reluctant to take the case, but as always, his empty wallet and poor judgment are too powerful to overcome.
Peeking though the slats of Antrem's closet, Jonathan ends up in a Freudian nightmare, when he unexpectedly witnesses George having a tryst with Priscilla. Jonathan begs an explanation, and George wistfully says that he's never fallen out of love with her. When Antrem discovers the affair and demands an explanation, however, Priscilla doesn't tell him that she loves George; she says that being with him reminds her of when she was young. George has his affair, but he's forever lost what Antrem now has: Priscilla as his wife.
Meanwhile, Ray makes his own attempt to rewrite the past by devoting himself to winning Leah back. He visits her apartment with flowers, a mix CD, and a lovingly drawn comic book, but discovers that he's already been replaced by another lover (played by series creator Jonathan Ames, whose full-frontal nudity makes for an unusually revealing cameo). He chases the man out and walks away in tears.
No matter how hard they try, Jonathan can't switch positions with Warren; George can't switch positions with Antrem; Ray can't switch positions with Leah's new beau. Bored to Death is at its best when it mixes its comedy with tragedy, and this episode, in which all three leading men are forced to confront the painful truths of their romantic relationships, offered both in spades. The comedy comes from watching the three leads try to be something different than they are. The tragedy comes from the fact that they can't.
Most emasculating moment of the week: In an episode that was essentially a nonstop series of emasculating moments, the most painful came from urologist Dr. Kenwood, who tells George that she only needs to use a magnifying glass in her examinations "sometimes." The implication is enough to make any man cringe.
Meta-reference of the week: Stella's use of Henry Miller and Charles Bukowski as justification for a threesome was inspired, but nothing could top Jonathan invoking Hemingway and Fitzgerald's intimate friendship in A Moveable Feast, which somehow convinces Ray to objectively evaluate the size of Jonathan's penis.
Next week on Bored to Death: Patton Oswalt is back as a proprietor of a store for spy gadgets; Ray and George rejoin Jonathan in the field as he takes on his next case.