'Bored to Death': Innocence Lost, and Then Regained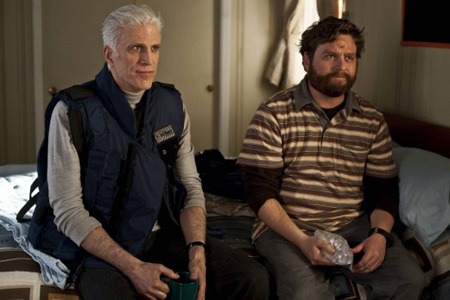 HBO
George Christopher: "I can't die. I haven't figured anything out yet."
Sooner or later, everyone has to confront the knowledge that they're going to die. For most people, it's when they're young—after the death of a grandparent or a pet, or perhaps just a moment of idle contemplation.
This type of introspection does not come easily to the still-childlike George Christopher, who, in his 60s, seems to face death for the first time when he's diagnosed with stage II prostate cancer in this week's episode. When confronted with such awful news, most people seek out a loved one, a Bible, or a psychiatrist. George—whose shock is less at the cancer diagnosis and more at the realization that he can die at all—retreats to the floor of his apartment, where he contemplates his mortality in a marijuana-induced stupor.
At the same time, Jonathan faces the possibility of his own death in a painfully literal way. His amateur sleuthing in the S&M dungeon earlier this season has caught up with him; the thugs who ran the brothel have tracked him down, and they want $20,000 to fix the damage he did to their computer. Jonathan, who's still paying back the advance on his rejected second novels, calls George to ask for the money.
As Jonathan and the kidnappers wait for George's arrival, Jonathan continues to play detective in earnest, seeming, as always, not to comprehend the very real danger he's in. From the series' beginning, he's has idolized literary tough guy Philip Marlowe, but for all his boyish innocence, Jonathan's more like one of the Hardy Boys. Even as he's faced with mortal danger, he blathers good-naturedly to a kidnapper about everything from his breakup with Stella to his love for Oscar Wilde.
Meanwhile, as George contemplates the best way to respond to Jonathan's call, his always-shaky judgment isn't helped by the shock of his diagnosis, or by the two bags of marijuana he's consumed. Instead of paying the ransom or calling the police, George talks Ray into joining him for an ill-fated, commando-style rescue attempt; a few misplaced rubber bullets and a poorly-thrown flash grenade later, and they're tied up next to Jonathan, too.
Help comes, like it does for so many children, from Dad, when Jonathan's no-nonsense father agrees to pay $2,000 to the exasperated kidnappers. As Jonathan, George, and Ray regroup in Jonathan's boyhood bedroom while Jonathan's mother makes them breakfast, casually discussing Tarzan novels and old issues of The Avengers as if they hadn't been tied to chairs at gunpoint just a few hours earlier, it's clear that—no matter how closely or often they face death—these characters will never lose their innocence.
Most emasculating moment of the week: Jonathan discovers that last week's threesome with Stella and her well-endowed ex Warren was just a step on the way to Stella dumping him for Warren.
Meta-reference of the week: Jonathan and his kidnapper bond over Wilde's De Profundis, with the kidnapper mournfully quoting Wilde's "love that dare not speak its name" to explain his fondness for transsexuals.
Next week on Bored to Death: John Hodgman returns as obnoxious literature critic Louis Green; George tries to track down clean urine to use for a drug test.