'30 Rock': Why Liz Lemon Has Man Problems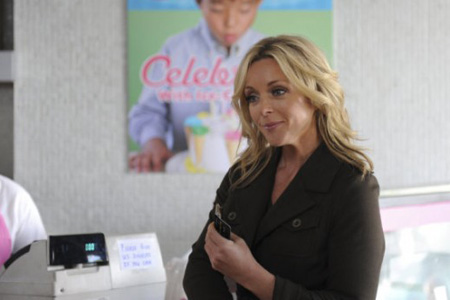 NBC
We've known for a long time that Liz Lemon, as a single woman in New York, is not of the same mold as the sex-swinging, vibrator-toting Samantha Joneses of the world. Before tonight's unique opportunity to dive deep into Liz's psyche, we have chalked up her negative attitude regarding sex to her generally uptight and neurotic nature.
Luckily for Liz, Jack is "Reaganing," batting a thousand, and is eager to help the "Albert Pujols of having problems." He corners her in his car, and Liz admits, under duress, that "my junk closed for business. It's like Fort Knox down there." She attributes her reoccurring inabilities on a particularly painful childhood memory:
After a long and painful ride to Newark Airport to break up with Carol, Jack continues his success streak and realizes that it's not the fact that "sex makes the people go away" that turns Liz off. All of her dysfunction happens as a direct result of Tom Jones (Las Vegas, song playing, unfortunate man perm). The episode ends with Liz remembering that Carol is at JFK instead of Newark, and we don't get a resolution regarding their possible break-up. Will Liz still break up with Carol, considering her new unusual revelation regarding the "It's Not Unusual" singer? My guess is yes, but only after we find out Carol has always dreamed of dancing to a Tom Jones song at his wedding, or something like that.
Best random quote that has nothing to do with the show's plot: "I have to talk to Rachel Maddow—only one of us can have this haircut." – Jack Donaghy