'30 Rock' Live Episode: Did It Work?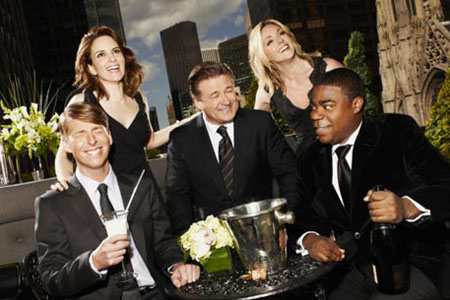 NBC
The story of this week's episode of 30 Rock was simple—Jack has given up alcohol while Avery is pregnant with their child, and everyone has forgotten Liz's birthday.
But let's face it, the real focus of the show was the fact that it was broadcast live from Studio 8H at 30 Rockefeller Plaza instead of pre-taped on the 30 Rock soundstage in Long Island City.
The move to SNL's space definitely changed the visual experience of the show. There were a couple of awkward camera angles, such as the camera on top of the flat when Liz comes in to talk to Jonathan, and due to the proscenium-like set up of the studio, we saw the set pieces in a different way. I barely recognized Jack's office, since we saw the fireplace, usually lost to the left of the camera, head-on instead of Jack's familiar desk and the windows behind it. There were some new noises added to the soundtrack with the addition of the live studio audience—who most enthusiastically greeted Jon Hamm's appearance—and a live band (the SNL band?) played the opening title song and background music during some scenes.
Besides the look of the show, Saturday Night Live's influence was obvious in its content, featuring:
1. SNL-style commercials parading as actual TGS commercials
2. Lots of guest stars, including three current or former SNL folks Julia Louis-Dreyfuss hilariously featured as Liz's body double for refined sugar flashbacks and quick scene changes, Rachel Dratch as a 30 Rock cleaning lady, Chris Parnell as Dr. Leo Spaceman, Matt Damon as Carol, Bill Hader as his creepy co-pilot, and Jon Hamm as handless Drew.
3. A chance to watch TGS skits for the first time in a long time, including a Fox News sketch somewhat reminiscent of Weekend Update.
4. And, of course, the familiar sign off and closing credits with everyone piled on the Studio 8H stage
But the best part of this episode, hands down, was that they used the whole experience, with its visual differences and quirks, as a conceit for a big, 21-minute-long joke. Jack starts out the episode asking Liz, "Does it seem weird in here to you?" And nothing is quite right until he takes a quick swig of alcohol in celebration of Liz's birthday, returning everything about the show to normal for just a brief moment.