'Paradise Lost': The 3-D Movie Adaptation
News that the film is in the works should spark outrage, but instead it just inspires a shrug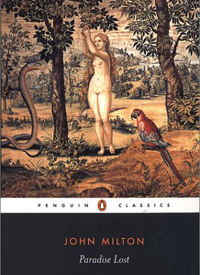 Penguin Classics
Well, we're getting an action-movie 3D adaptation of Paradise Lost. As someone who has five copies of John Milton's epic in my apartment, I suppose I ought to be raging, wailing, and tearing my hair over this. But it's as if writing about popular culture has infected me with a paralyzing neurotoxin, and I can only give an epic shrug and accept the inevitable butchery of a terrific work. There are ways of adapting the basic concept of the Fall that might actually work quite well. A movie version of the events of Neil Gaiman's Season of Mists, in which a bored Satan quits as overseer of Hell, hands the key to the reluctant Lord of Dreams, and heads out to hang out on the beach in Australia, prompting some inter-mythic rivalries and intrigues, provides a more easily navigable plot framework and probably the best, most containable way to make a Sandman movie (I can't even deal with the CW's planned adaptation of the graphic novels. I just can't).
I just hope that Legendary Pictures keeps a couple of things in mind with this adaptation. First, most of the characters are boring. Adam and Eve are hopelessly naive and lovey-dovey. God's a bit of an impenetrable jerk. And the Son just sort of sits around and glows obnoxiously. If it takes aerial warfare to spice things up, fine. But cast a seriously phenomenal actor as Satan, because you're going to need it. Second, don't skimp on the special effects. This isn't some cheap-angels-attack-a-diner-Legion-style penny-ante conflict. This is the big one.
But really, all this hot mess of an idea illustrates is that we need an awesome Milton biopic. Dude was a forward-thinking advocate for free speech, divorce, and consent of the governed who became Cromwell's chief polemicist and a censor himself. And then wrote Paradise Lost. While blind. By memorizing his composition every night before bed and dictating it the next day. That's a life that needs no aerial combat or special effects to spice it up. But just like Paradise Lost, it does demand a completely terrific lead actor.