'Mike & Molly': Boy Meets Girl ... at Overeaters Anonymous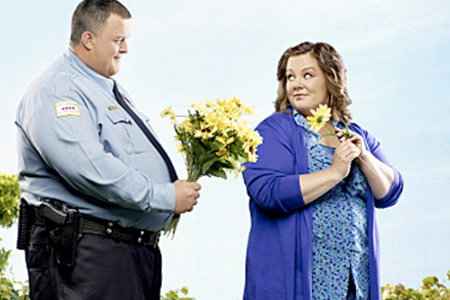 CBS
Here's the conceit of Mike & Molly, which debuts tonight on CBS: Mike and Molly are two singles—she's a teacher and he's a cop—who begin dating after they meet at an Overeaters Anonymous meeting. Played by Billy Gardell and Melissa McCarthy, respectively, Mike & Molly is the latest in a string of TV series featuring overweight actors and characters in leading roles. Huge premiered over the summer. Starring Hairspray's Nikki Blonsky, the show is a teen drama set at a fat camp. Lifetime's Drop Dead Diva has been a breakout success for the network, featuring Brooke Elliot as a thin girl who dies and comes back to life in the body of a fat lawyer. Now critics are calling Mike & Molly a "beacon of hope" for the portrayal of overweight people on TV. No longer are these characters relegated to fat best friend status, but they are taking center stage—which should be a good thing.
Yet while we're seeing a surge in shows starring overweight actors, in each of these series the character's weight is not only the central plot point, but the reason for the show to exist. Is this trend really a positive thing?
According to the American Journal of Public Health, only 1 out of every 10 female characters and less than a quarter of male characters on TV were overweight—less than half the percentages of the actual American population that is overweight and obese. While Mike & Molly and these other series do broaden the landscape of the body types featured on TV, they're not making that much of an impact on this trend. Bradley S. Greenberg, one of the study's authors, points out, "I'm not sure if we've identified one handful or two handfuls of these new overweight characters, but I don't think it goes much beyond that."
Furthermore, the study showed that less than 10 percent of overweight male characters had dating lives or talked about sexual activity, and heavier female characters engaged in significantly fewer physical displays of affection than thinner counterparts. In that regard (and in the footsteps of canceled series King of Queens and Ugly Betty), Mike & Molly and these other shows are refreshing. As Mary McNamara writes in the LA Times, these shows remember that "those with high body fat indexes also have jobs and love lives." Considering how jarringly low the number of romantic liaisons was among overweight characters in Greenberg's survey, the fact that Mike and Molly are dating, that Blonsky's character on Huge has crushes, and Drop Dead Diva cycles romantic partners for its lead is a step in the right direction. But their dating lives aren't unrelated to their weight issues—they are completely intertwined. If we're really looking for an uplifting portrayal of overweight people in fictional television shows (reality TV is a whole other ball game), shouldn't we strive for a series starring a heavy actor without their weight being the central preoccupation?
Look to Ugly Betty as an example. Using the same scale employed to identify body type in his study, Greenberg says that America Ferrera's character at the start of the series would be considered mildly overweight. Her Betty was a rare thing when the show premiered: a character that was often teased for size and appearance, but also had a robust romantic life—with attractive co-stars to boot. Yet Ferrera noticeably dropped weight over the course of her show's run. Greenberg points out, "As the show progressed over the years, she became thinner and the amount of romantic and friend relationships increased." Is that really a correlation that should be considered positive? Should we be happy that Mike and Molly are heavy characters with vibrant dating lives, if the joke is that they met at AA for fat people?
Even while writing about how hopeful Mike & Molly makes her for the portrayal of overweight people on TV—that "television has discovered, or remembered, that fate people are human after all, with a panoply of dreams, desires, foibles and stories that often have nothing to do with their weight"—Mary McNamara litters her column with fat jokes:
"And this fall pound-power comes to the networks."

"...none of them get bogged down in the slippery excess of parody or pathos that so often accompanies current tales from the top of the scale."

"...comedian Gardell can finally slide out of Kevin James' formidable shadow."
It must be said that it is a fantastic development that network television has a series centered around overweight characters—especially one that's poised to be a hit. Mike and Molly is the latest sitcom from Chuck Lorre, the man behind megahit sitcoms Two and a Half Men and The Big Bang Theory. Given Lorre's track record of producing ratings successes (his resume also includes Roseanne, Cybil, and Dharma and Greg), and Mike and Molly's high-profile launch (in addition to a massive marketing campaign, it debuts in the lucrative post-Two and a Half Men timeslot—the same one that Bang Theory broke out in), the show is set up for success. It is also true that in order for a series to exist, there must be a premise. Mike & Molly is a situation comedy; the situation here is meeting the love of your life at Weight Watchers—and it's a clever conceit at that. But when are we going to see an overweight lead character who goes about life normally without weight being the central issue? Mike & Molly, Huge, Drop Dead Diva: are all good shows, diversifying what we see on TV. Now if we could only diversify their life's preoccupations. To borrow McNamara's affinity for puns: that would be a big deal.