Magazine Covers of the Year: Winners Announced
GQ and Sports Illustrated were the big winners in the American Society of Magazine Editors Best Cover contest--they secured two victories apiece. When the nominees were announced last month in 12 categories (everything from Sexiest to Best Vampire Cover), we reviewed the best, worst, and most puzzling inclusions and snubs. The winners were chosen by an online vote on Amazon.com; here's a quick take on the best and worst winner, as well as a rundown of the rest of the victors (including The Atlantic's "Fat Nation" in the News & Business category).
The Best: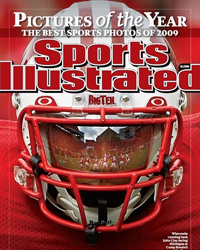 Sports Illustrated
Not only does the Sports Illustrated December issue feature the best cover in the category, but one of the coolest sports photographs of the year. A cropped image Wisconsin running back John Clay peering out his helmet not only reveals the player's intense game face, but the visor reflects the football game as he sees it from the line of scrimmage. Especially given the eye-rolling fellow nominees (Shaun White draped in a flag, a dog), it's a worthy winner.
The Worst:
Despite six deserved nominations and a banner year of provoking, stimulating, visually exciting covers, New York magazine only won one category (Most Controversial, for its September cover "HATE," which turned President's Obama's "HOPE" poster to reflect a more dismal political climate). But its loss in the Lifestyle category is especially confusing. Its beautifully artistic, minimalist "Reasons to Love New York" cover, a hand-painted image of a woman walking through a snowy Central Park, perfectly encapsulated the issue's theme and was far more fresh and visually interesting than its fellow nominees. This includes the winner, a GQ cover featuring a stock photo of Johnny Depp. The image was not even a new photo shoot, rewarding laziness (albeit creative budget-slashing) over cleverness.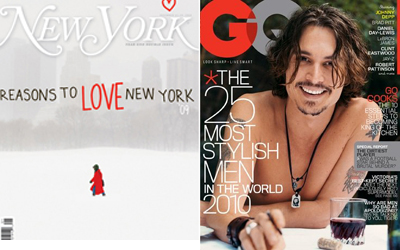 New York/GQ
You can view all the winners at Amazon.com, and vote for which of the 12 should win the all-encompassing Magazine Cover of the Year prize. Here's a list of the winners:
NEWS & BUSINESS
The Atlantic, May 2010: "Fat Nation"
ENTERTAINMENT & CELEBRITY
GQ, December 2009: "Clint Eastwood"

FASHION & BEAUTY
The New Yorker, March 29, 2010: "Homage"
LIFESTYLE
GQ, February 2010: "The 25 Most Stylish Men in the World 2010"
SCIENCE, TECHNOLOGY & NATURE
National Geographic, April 2010: "Water: Our Thirsty World"
SPORTS & FITNESS
Sports Illustrated, December 11, 2009: "Pictures of the Year"
HOUSE & HOME
Coastal Living, April 2010: "Weekend Paradise"
FUNNIEST
Playboy, November 2009: "Marge Simpson"
MOST CONTROVERSIAL
New York, September 28, 2009: "HATE"

MOST DELICIOUS
Texas Monthly, August 2009: "The 50 Best Burgers"
SEXIEST
Sports Illustrated, February 12, 2010: "Swimsuit 2010"
BEST VAMPIRE
Harper's Bazaar, December 2009: "Twilight"