'Mad Men': Times Change, but Sadness Stays the Same
The characters—and the country—show signs of transformation, but an unhappiness lingers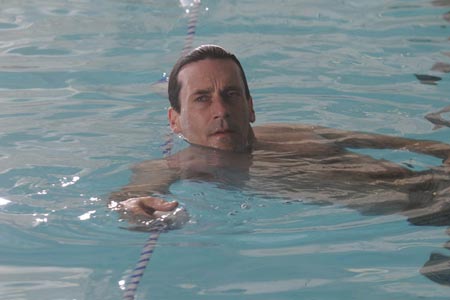 AMC
The fourth season of Mad Men is in full swing, exploring the aftermath of the creation of Sterling Cooper Draper Pryce and the dissolution of the Draper marriage.Richard Drew, Danielle Robinson, Leigh Davenport, and Catie Cambria—to provide their takes on all the sex, the clothes, and of course, the drama.

They weigh in on this week's episode, which has Joan dealing with office high-jinx and Don clearing his head at the pool.

Richard Drew (TV producer and creator of the blog Remote Patrolled): It's the new Don Draper...
Scribbling in his journal, taking exercise, turning down alcohol, and even postponing sex—this was Don Draper attempting to turn his life around after hitting rock bottom in last week's superlative "suitcase" episode.
It's good to see Don getting his act back together—and even taking an active interest in his children's lives—though I have a feeling it won't be long before the old Draper is back. As soon as Don regains his footing he'll only end up sabotaging himself again ...
Meanwhile, happiness was proving just as elusive for three of the women in Don's life. Betty, Joan, and Peggy all seemingly have what they want but the reality of their lives is more complicated. Actions have consequences and the seeds all three have sown are now bearing some bitter fruit.
Betty can keep telling herself that she has "everything" and Don has "nothing," but her jealous pouting over her ex-husband's dinner date suggests otherwise. I loved seeing Betty's sulking face on the journey home and the cracks already starting to show in her "perfect" new marriage.
Meanwhile Joan, for years the office sex bomb, now struggles to be taken seriously and is little more than a smutty joke for the office "boys club." And then there's Peggy, unsure of the limits of her power and desperate to be looked up to (and liked). Joan's withering put-down of Peggy in the office elevator was the best scene of the night and another example of Mad Men's constant power to surprise.
The times may be changing but in Mad Men unhappiness remains a constant.
Catie Cambria (fashion publicist at Donna Karan New York): It would only be proper that during New York Fashion Week, we only talk clothes.
The opening scene features with Don in a crisp white shirt and a pair of aviators, stepping out to the Rolling Stones' "Satisfaction." It was one of my favorite scenes this season, as we really get a sense of how the times are a changing (to quote Bob Dylan). The camera roves the city street as Don sees it, and we get a chance to see the very different vibe of the clothes and the people in New York in the mid-'60s.
I'm sort of obsessed with the women on the show this season—their exquisite beauty, elegance, and demons really make the season. Betty in her pale mint shift with slight beading and pearl drop earrings is particularly stunning, even after she falls apart in the bathroom after seeing Don on a date; or Joan in a hot pink sheath when she breaks down and says goodbye to her husband leaving for basic training.
Yet Joan was even lovelier, and even tougher, in the bright teal number with ruffles, when she confronts the crude and childish men from creative. The dress is so electric and feminine, and she is fierce as she tells them she won't care when they die in Vietnam. Joan is fiercer still when she chastises Peggy for firing Joey. She says Peggy makes her look like a "powerless secretary," but I couldn't disagree more.
Leigh Davenport (digital content producer at New York advertising company Footsteps Group): Despite the epic battle happening between Betty and Don this week, for me, the episode's most amazing fight happened between Peggy and Joan. Peggy's struggles to come of age in the feminist movement and finds herself opposite Joan, who understands her womanhood in a completely different way. After Joan finds a pornographic sketch drawn by Joey taped to her window suggesting she was sleeping with Lane, Joan responds by telling the men that she can't wait until next year when they are fighting in Vietnam. She punctuates the thought with a stinging line, "when you're over there just know that you're not fighting for me, because I never liked you." Despite Joan's speech, Peggy feels that Joey is still getting off to easy and rushes in to Don's office to ask for help. Don responds hastily, "if you want respect, go out and get it for yourself." Peggy tells Joey he needs to apologize to Joan. When he resists, she fires him. Later when Peggy and Joan find themselves on the elevator, Peggy feeling great about her moment of power suggests to Joan that she defended her. Joan responds to the contrary, "All you've done is prove to them that I'm a meaningless secretary and you're another humorless bitch." Wow. I was speechless and so was Peggy. Joan proves once again that power dynamics of this era are not merely about who can tell whom what to do. It seems that Peggy has a lot to learn.
Past Mad Men panels:
'Mad Men': The Don and Peggy Show
'Mad Men': The Rise and Fall (and Rise?) of Don Draper
'Mad Men': Bad Behavior All Around
'Mad Men': One-Liners, Sex Talk, and Nude Photography
'Mad Men': A Not-So-Happy New Year
'Mad Men': The Beginning of the End for Don Draper?
'Mad Men': 4 Takes on the Season Premiere
To help make sense of it all, we have a panel of insiders from the worlds of television, advertising, and fashion—