Jets: 'Winning Is Everything' Works ... If They Win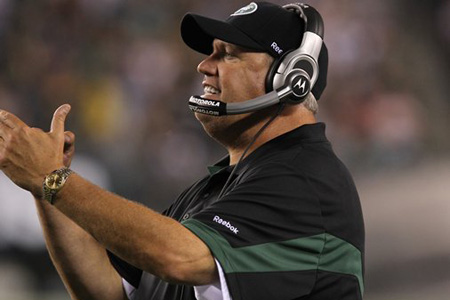 HBO
The New York Jets accomplished two things with their 31-23 win over the Miami Dolphins on Sunday. They moved into a three-way tie for first place in the AFC East. And they reinforced their unstated philosophy that winning is all that matters to them.
On the surface, that sounds pretty trite—winning is what matters to any team. But most teams aren't quite so brazen about it. Most teams would not have allowed wide receiver Braylon Edwards play a single down just five days after blowing a .16 (twice the legal limit) at five in the morning and getting charged with driving under the influence of alcohol. The Jets decided benching Edwards for the first quarter was punishment enough.
The argument that missing 17 plays is a sufficient consequence for Edwards' shenanigans—driving drunk just 18 months after friend and fellow wideout Donte Stallworth committed DUI manslaughter—is absurd on its face. But anyone who makes that argument is missing the point. The Jets gave Edwards a slap on the wrist because they have a better chance of winning when he's on the field. When Edwards hauled in a 67-yard touchdown pass in the third quarter against Miami, he validated the Jets' decision and spurred them to a hard-fought victory.
Of course, eschewing any semblance of morals or standards in favor of getting the W has its risks. Because when you implement an institutional culture that only values winning, as Jets' coach Rex Ryan has, you really have to win.
Ryan is just 13-9 in a little more than a season as New York's coach, but you wouldn't know it from listening to him—or his team. Since the Jets' stunning run to the AFC championship game last season, Ryan has brashly predicted a Super Bowl XLV victory to anyone who would listen. When HBO filmed its annual behind-the-scenes training camp documentary, Hard Knocks, Ryan cursed up a storm, bragged about the Jets' defense, and all but handed his team the Lombardi trophy.
Ryan's swagger has rubbed off on his players, and not always for the better. When Azteca TV reporter Ines Sainz visited Jets' practice, she was verbally harassed by players and coaches who seemed oblivious to the firestorm of criticism their actions would kick up.
Or maybe they just didn't care. You can't go 1-0 by being respectful to female reporters.
Throwing away the mantle of role models and community leaders for a frathouse, win-at-all-costs mentality is hardly unique to this year's Jets. The Dallas Cowboys under Jimmie Johnson were dubbed "America's Team" in the mid-1990s, an arrogant and uber-talented squad with a slew of off-the-field problems. Led by Dream Team member and resident chest-stomper Christian Laettner, the 1991-92 Duke basketball team was unabashedly cocky on its way to the NCAA title. Sports nuts loved to hate both squads, but they were beloved by their fan bases, and more importantly, they won it all.
Anything less than a championship, however, and the arrogance comes back to haunt you. Take Ryan's father, Buddy, the infamous architect of the "46 defense" used by the 1985 Chicago Bears on their way to a Super Bowl title. Buddy Ryan's bloviating was celebrated when his "Monster of the Midway" went 18-1 and dismantled the Patriots 46-10 in Super Bowl XX. But his persona backfired when he was merely above average as Philadelphia's head coach (three playoff appearances in five seasons) and Houston's offensive coordinator (two playoff berths in three seasons).
Perhaps his teams would have been more apt to overlook allegedly taking out bounties on opposing players and punching a fellow coordinator in the face during a game if Buddy had brought home a couple more Super Bowls. But without titles, his win-first-be-a-role-model-never culture was too high a cost for his franchises.
Now Rex Ryan has followed in his father's footsteps and doubled down on his team. If the Jets do win the Super Bowl, Ryan will become the cocky sonofabitch who just won, baby. Anything less, and he'll find his coaching style might not be so welcome anymore.