Jennifer Aniston on 'Cougar Town': Reminding Us Why She's a Star
Jennifer Aniston guest-starred as Courteney Cox's therapist on last night's Cougar Town. Dressed in one of those long, draping "eccentric lady" linen dresses and choking on honeysuckle-scented incense, her character confuses patients' histories, wears a crystal around her neck to protect her from cancer, and says things like, "Mother of Buddha!" when she's angry. Aniston's performance was delightfully weird and offbeat—and comedically sharp, a welcome change from the generic and bland film roles she's played in the years since Friends ended. Last night's performance spotlighted her gifts as a character actress—and served as a frustrating reminder of what we've been missing since she has (all but) abandoned that niche of acting.
In the Friends pilot, Rachel Green (the character that Aniston made iconic) burst into Central Perk soaking wet and wearing a wedding dress befitting Little Bo Peep. She was a spoiled daddy's girl from Long Island with a shrill voice, over-the-top emotions, and a comic self-centeredness. Over the series' 10 seasons, Aniston developed Rachel into a kooky, ditzy, bumbling nutjob with a knack for slapstick, pratfalls, and silly faces—relatable and endearing, of course, but hardly an ingénue.
But when she skyrocketed to superstardom (with a little help from a permanent residency on the covers of gossip rags), Hollywood latched on to the idea of Aniston being precisely that—the ingénue (and often bland) romantic lead. When Friends ended its run, she signed on to a string of generic romantic comedies. Her first wide release, Rumor Has It, was a major box office disappointment, with Aniston playing an engaged professional unsure of whether marriage is for her (reviews were similarly unkind). She took on similar roles in Derailed, Love Happens, and The Bounty Hunter, with each film tanking. She's had box office successes with films like Bruce Almighty and Marley & Me, but the supporting wife characters she played lacked any depth or distinctive quirk, and frankly, could've been acted by any Hollywood starlet without affecting the film's outcome.
While the press gestates as to why she's so famous despite her failures, and a survey of blog opinion on the actress continues to be decidedly unfavorable, it's worth remembering she is a talented actress. In addition to her Friends acclaim, she won glowing reviews for her performance in 2002's The Good Girl, as a bored discount store clerk in a small town. Her most recent release The Switch—in which she plays a free spirit and channels a bit of Rachel Green—was her most well-received performance in years. It's certainly no coincidence that of Aniston's leading roles, these two roles were the most layered, odd, and left-of-center—and relied most on Aniston's skills as a character actress.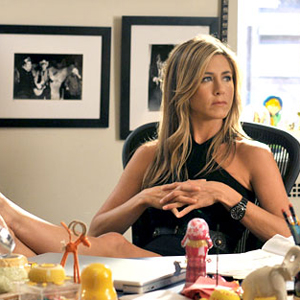 NBC
Similarly, her success as a guest star on TV is intriguing. In an episode of 30 Rock last season, Aniston played a sexed up woman who stalked Alec Baldwin, interpreted "living on the edge" as stealing a cop's gun and framing her date for doing it, and who cycled crazy business ventures (for that episode, it was custom-designed hats). The stint was critically praised and was nominated for an Emmy.
Her loopy performance on last night's Cougar Town was the comic highlight of the episode (critics enjoyed her too). These two larger than life roles allowed Aniston to revisit her physical comedy prowess, and showed were her true talent lies
It is unlikely that Aniston—who is undeniably a movie star now and will have no trouble finding more feature work—will return to TV in any regular capacity. But what if she were to turn her one-off guest appearances into a recurring role, in the vein of Jon Hamm on 30 Rock, or even Tom Selleck back in the Friends days? It's easy to see how a character actress as beautiful and talented as Jennifer Aniston could be confused for a Hollywood ingénue, but as last night's Cougar Town proved, playing these silly characters is really when Jen's at her best. And is exactly why she's such a star.