'Glee': Britney Spears Meets Brittany S. Pierce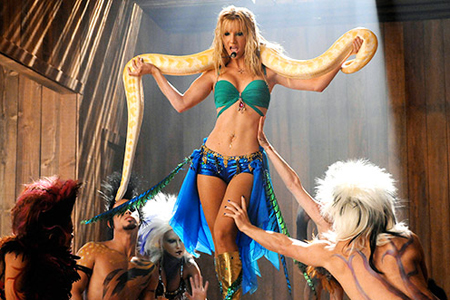 Fox
The second season of Glee premiered last week, catching up with New Directions after their loss at Regionals.
To help make sense of it all, we have a panel of musical theater and pop culture buffs—Meghan Brown, Patrick Burns, and Kevin Fallon—to provide their takes on how realistic the show feels, how well the romances develop, and of course, how good the musical numbers are.
They weigh in on this week's show, which pays tribute to Britney Spears while thrusting a fan-favorite character into the spotlight.
Kevin Fallon (writer and producer for The Atlantic's Culture channel): Rachel wore a Catholic school girl's uniform, Will bought a canary yellow Corvette, Emma mixed her purple and green grapes together: this week's episode channeled Britney Spears to show what happens when McKinley High lets loose and goes out of control.
We learn that simple-minded Brittany's full name is Brittany S. Pierce, and she has lived in the shadow of her pop diva name-twin all her life. When Emma's new dentist boyfriend, Uncle Jesse, administers hallucinogenic anesthesia to Brittany, a series of Spears-inspired dream sequences help her to let go of her Britney grudge.
And thats pretty much where the plot ends. Because this week's tribute episode was really a vanity project for Glee creator Ryan Murphy who, clearly a Britney fan, meticulously recreated three of Spears iconic music videos at the expense of storyline. It made sense that Brittany, played to deadpan delight by Heather Morris, had the honor of essentially playing Spears in the episode: she has a banging body, killer dance moves, and her singing is serviceable at best. It was a hoot to have her in the forefront of the episode, owning the choreography and delivering a surplus of her hilarious non-sequitirs.
But just like Spears and her music, Morris's Brittany is best in small doses, and should return to scene-stealing supporting status next week. And also like Spears, this week's Glee was cheesy, substanceless, and all together silly—but guiltily enjoyable nonetheless. By the end of the episode Schue was back to wearing more vests than the cast of Blossom and Rachel was once again singing adult contemporary ballads in cardigans; let's hope next weeks episode is back to having a plot.
Meghan Brown (co-founder of the Giraffe Hunt Theater in Los Angeles): Tonight's super-hyped Britney Spears episode was 100 percent pure amazing awesome fun OMG. Heather Morris as Brittany S. Pierce has been one of the show's highlights for awhile now, and getting to see her shine was a real thrill. Not only is she ridiculously hilarious ("Are you a cat?"), but that woman can DANCE. She stole the show tonight without question. Rachel who?
Santana and the gang gave Britney's oozing sexiness the old glee club try, but no one's talent came close to matching Brittany's. "Me Against the Music" and "I'm a Slave 4 U" were the best numbers in the show, with the Britney Spears Sex Riot anthem "Toxic" and Artie's enthusiastic rendition of "Stronger" tied for distant thirds.
Jukebox High School Musical? Maybe. But I'll throw a quarter in anytime.
Patrick Burns (writer, composer, and star of the original one-man-musical, From Foster Care to Fabulous): It was exciting to see Heather Morris (Britney S. Pierce) get the chance to show off her chops. Not only did she capture the "Britney flavor" better than any of her fellow cast members, but her numbers were exhilarating and sexy. And, as always, her dry one-liners brought laughter into my life.
I have historically been an advocate for the episodes of Glee that treat the musical numbers as if they are songs in a well-written book musical. This means the music grows out of a scene where the dialogue builds to singing. Along with that, I have showed disdain for musical numbers being plopped throughout the episode arbitrarily. However, I didn't mind that the Britney Spears songs were born out of excess anesthesia. It didn't make much sense, but it was funny and the numbers were well executed and nostalgic for all of us that grew up watching Britney's music videos.
Sue Sylvester quote of the week: "You wear more vests than the cast of Blossom."
Last week's Glee panel: