Does 'The Social Network' Get the Internet Right?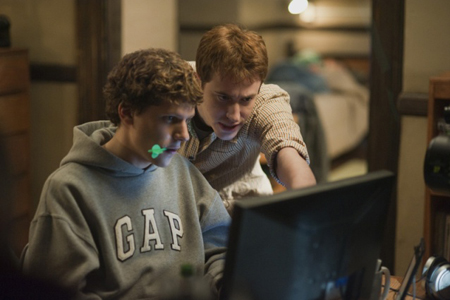 Columbia Pictures
The Social Network, the drama-packed founding-of-Facebook saga—and just about the most zeitgeisty thing around—world-premiered Friday at the 48th New York Film Festival ahead of its nationwide opening next week. It was, according to the critic J. Hoberman, the festival's first opening-night world premiere since the late Robert Altman's sprawling Short Cuts bowed here in 1993. In other words, cause for excitement. The Social Network represents a rare big-buzz-movie coup for the festival, the last edition of which was blasted in the paper of record for its deep lineup of unrelentingly grim features ("Wallowing in Misery for Art's Sake," went the headline of an A.O. Scott dispatch). But even many discerning-cinephile types approve of this mainstream "Facebook movie" selection. Its director, after all, is David Fincher, the exacting auteur behind 2007's Zodiac, a staggeringly ambitious shot-on-digital serial-killer period piece that stubbornly (and admirably) refused to resolve itself.
The Social Network is every bit as engaging as the steadily building buzz has indicated, and it's probably the best film Fincher has made that doesn't concern a murderer on the loose (he also directed Se7en)—although Facebook founder Mark Zuckerberg (Jesse Eisenberg) comes off as so sinister and aloof that he might as well be one of Zodiac's blind-alley suspects. But does the first high-profile Web 2.0-centric studio film—with its of-the-moment "gloss on the boot-up, log-on, plug-in generation," as the Times' Manohla Dargis put it—redefine how the Internet is portrayed in movies?
In a word, no. The Social Network is a strong drama about complicated people, but, contrary to many critics' characterizations of the film's high-speed connection to the here and now, its advancements in the cinematic portrayal of the digital life prove negligible.
The film's version of Facebook looks a whole lot like the real thing used to, back in the days when it was "The Facebook," with its blue banners, its ample white space, and its pixel-stipple likeness of Zuckerberg in the upper-left-hand corner. But this is not, as NYFF selection committee member Scott Foundas suggested in his Film Comment review, "a movie of people typing in front of computer screens and talking in rooms that is as suspenseful as any more obvious thriller," as if the visual whiz Fincher had figured out a way of manufacturing suspense out of what are traditionally held to be the most uncinematic of situations. Most of the computer screens remain offscreen: The glimpses of Facebook itself are brief—distractingly so, as if approved by a studio lawyer with a stopwatch.
There's little other significant computer activity on-screen. The germ of the social-networking sensation is a site called Facemash, a simple hot-or-not rating site born after Zuckerberg, a status-obsessed Harvard student, condescends to his girlfriend, Erica Albright (Rooney Mara). This is the film's opening scene, and it ends with him getting summarily dumped in a crowded barroom where The White Stripes blare. He hurries home for an evening of drunken vindictive blogging on Livejournal (how 2003!). We later see him cheating on an art-history final by soliciting responses to paintings under a pseudonymous Facebook account.
But aside from some fields of hacker/programmer code, this is all we see. There is no Googling or chatting (and we know the real-life Zuck likes to do this, on account of this spring's unflattering leaked Instant Message transcripts), and the Web browsers we do glimpse look chintzy, too spare, not particularly convincing. And, in an unlikely turn of events in a Steve Jobs world, all of the computers that enter the frame appear to be PCs. So while characters fully immerse themselves in online worlds, or building them ("wired in," the characters in the film call the seated young men on programming benders), there's very little feel for the variety of the online experience—a disappointment if not a significant distraction from the film's high-stakes acrimony and litigation.
However jarring these online interfaces, clever online-life sublimations—the QWERTY staccato of screenwriter Aaron Sorkin's dialogue and the sustained OS boot-up tones of Trent Reznor's score—pop up throughout Fincher's film, showing the director's constant engagement with the problem of how to make the sitting-and-typing material more compelling. And at least we now have a Hollywood drama that takes the Internet as a backdrop; the film maintains a skepticism about the general trend toward total "transparency" ("Private behavior is a relic of a time gone by," says Napster founder Sean Parker, played by Justin Timberlake), without resorting to the sanctimoniousness that its trailer suggested it might.
The Web here isn't, at least, a black-and-white domain where malicious hackers ply their dubious trade (Hackers, Swordfish) or older folks looking for love chat up a storm, getting their grooves back in the process (You've Got Mail, Something's Gotta Give); thankfully it's merely another canvas against which a messy human drama can play out.