'Da Vinci's Inquest': A Crime Show Set In ... Vancouver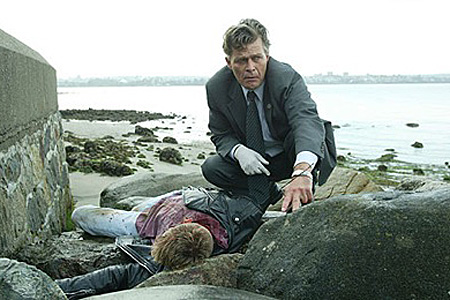 CBC
When he was guest-blogging for Ta-Nehisi, Aaron Schatz asked for an Atlanta cop show. I've long been obsessed with the idea that television needs to get the hell out of Los Angeles, Miami, and New York and explore other parts of the country and the world, so his request reminded me that I needed to fulfill a seriously overdue promise to my readers at my home base and check out Da Vinci's Inquest.
It's a procedural with a coroner as the main character rather than a cop, where the crimes don't always get solved, set in Vancouver. For fans of
Firefly
, Jewel Staite plays the main character's daughter, though her interests run more towards the artistic than the mechanical. The real attraction, however, is Nicholas Campbell, who looks like a burlier Willem Dafoe, and plays the lead role like a less-pathological combination of House, Jimmy McNulty and Bones. He's a cranky, protective guy, a drunk who sings Italian folks songs at Canadian bars and declares, "God bless chaos," while swigging from a bottle, and is skeptical, but not a bully. Campbell's also playing a key role in SyFy's
Haven
, another procedural-not-in-a-standard-idealized-big-city, about which I hear good things.
It's also just nice to see different details in the landscape. Because it's Vancouver, you get a hooker with an umbrella, Maersk shipping containers in the background of a dump site for a body, sharp slopes to the streets. Different cities and different settings, with different attitudes, make for different stories: Baltimore may have had Hamsterdam in The Wire, but Da Vinci was calling for a safe zone red light district in Vancouver to protect prostitutes in episodes that started airing five years earlier, in 1999 (and Inquest is based on true stories, too, of real-life Vancouver coroner-turned-Mayor Larry Campbell). The change of scene is nice, so far, if a bit grim.