College Football's First Saturday: The Greatest Day in Sports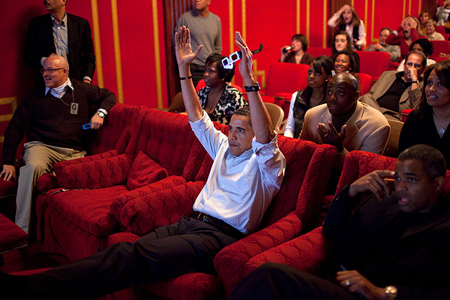 Pete Souza/Wikimedia Commons
College football has certain flaws. Coaches are shiftless and corrupt. Conference expansion threatens traditional rivalries. The national champion is chosen by a mathematical formula.
That you can know these things and still have a pleasant Labor Day weekend is proof that college football's first Saturday is the greatest sports day of the year. With 54 Division-I games on the docket, it's certainly the most crowded. The majority aren't good games, either. Florida State is playing a school called Samford, while Stanford goes up against Sacramento State. There are only two Saturday games this year where both teams are ranked in the AP Top 25: Oregon State (No. 24) at Texas Christian (No. 6), and LSU (No. 19) at North Carolina (No. 18). Neither matchup sizzles, especially now that UNC is resigned to perform compliance committee seppuku.
Preseason rankings only matter for 25 teams. Everyone else is out in the great void. The fact we can be happy there, for a weekend at least, before the messy business of conference play, coaches on the hot seat, and weekly BCS standings is reassuring. It's something to come back to the Saturday before Labor Day every year. It's a reminder that this is a big country, with wide open spaces and offenses run from the pistol formation. There are three times as many games Saturday as there are on the first day of March Madness. Plus, you don't need to skip work to watch it.
Unlike baseball's opening day—long-since mythologized out of porportion (and handed over, briefly, to the Japanese)—and the NFL's protracted opening weekend (who benefits from that second Monday Night Football game that starts at 11?), there's no buzz associated with the start of the D-I football season. Conference play—which the BCS values like gold buillion—is still a month away. What could go wrong against a team you're favored to beat by 27 points? Usually, nothing. That's the way things are. But once in a while, you get what happened on the first football Saturday of 2007, when Appalachian State went to Ann Arbor and beat Michigan. That game became a cultural event—not quite the United States over the USSR in 1980, but more memorable than two of the four New England Patriots Super Bowl appearances. Tiny upsets like that happen every year on opening weekend, maybe not at the same pitch, but with similar implications. Last year, FCS William & Mary went in to Charlottesville and beat UVa. 26-14. The same weekend, BYU defeated Oklahoma and Colorado State beat Colorado.
The point is, it's difficult to predict what the good games will be this weekend. (Note: the definition of a 'good' game—at least in college—as one that is competently played and highly contested. This is not to be confused with an 'exciting' game, which is highly contested but not competently played. Good games can be exciting. Exciting games cannot be good. Al Groh's teams at Virginia were neither exciting nor good.) And that's OK. It's the one day of wall-to-wall sports that requires no effort on the part of the viewer.
For example, the two games I'm most looking forward to are UConn at Michigan and Northwestern at Vanderbilt. I'm not even sure why, but I believe they will fascinate me in some way. If they don't, I will put on Washington at BYU, or Illinois at Missouri, or the armed service feed of Army at Eastern Michigan. These games will be exciting, if for no other reason than Jake Locker is the best quarterback to come out Washington since Drew Bledsoe (or Ryan Leaf, before the fall), the Arch Rivalry is a quietly insane trophy game, and Ron English and Rich Ellerson are two of the most creative football minds in the country. They could even be good, if Washington ever gives Locker a defense, Illinois coach Ron Zook decides this is going to be one of those years where he inexplicably reels off nine straight wins, and English and Ellerson got into a mid-major battle of wits.
You just don't know. That's the thing.
And that's why people want to get college football right. When it's perfect, it's perfect, and it doesn't ask anything of anyone. Enjoy today. There is beer in red plastic cups. The home team looks good, and there are no classes or work until Tuesday. Somewhere, a brass pep band strikes up a tune.