Casting 'The Girl With the Dragon Tattoo': The Real Winner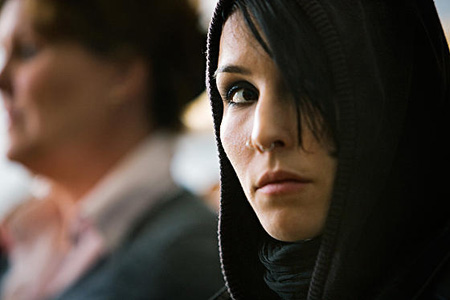 Danish Filminstitute
The lead role in the American remake of The Girl With the Dragon Tattoo was one of the most coveted parts for young actresses I can remember in quite some time. But the real winner, before the movie arrives in theaters and without regard to its eventual critical reception, may be the woman who starred in the first adaptation. Noomi Rapace, at 30 no ingenue, and without an English-speaking role to her name, is suddenly a hot commodity in the States.
She's just scored two intriguing parts. First,
the news came
that she and Jeremy Renner—no slouch himself off the success of
The Hurt Locker
, solid buzz for his role in Ben Affleck's upcoming heist flick
The Town
, and his casting as Hawkeye in Joss Whedon's adaptation of
The Avengers
—are going to play a grown-up Hansel and Gretel with a murderous twist and Edgar Wright-like sense of humor. It's a weird-sounding project, but the fact that producers think she's on the same level as Renner despite never having starred in a significant American release, and being most famous for a decidedly unusual role, is a nice vote of confidence in her drawing power.
More promisingly (and probably coming out first) is a lead role in
Sherlock Holmes 2
. Rapace
will be playing
Holmes' love interest, rumored to be a sexy French gypsy. There are problems with the whole idea, of course. I have
violent objections
to the whole idea of Holmes as a ladies' man, and was furious at the mistreatment and misinterpretation of Irene Adler in the first movie in the franchise. The character was dreadfully written, giving Rachel McAdams nearly nothing to do. I don't know that a cutie gypsy role is going to provide Rapace with any more meat, especially since in this interpretation Holmes and Watson are clearly soulmates. But it's a nice, high-profile project, and Robert Downey Jr. and Jude Law will probably knock it out of the park again, casting some reflected glory back on Rapace. I hope she takes the opportunity and throws some sharp elbows while she's running with it.