5 Things You Need to Know Before the 'Glee' Premiere
Videos, insights, and a very awesome flowchart to help you prepare for the series' new season—even if you haven't been watching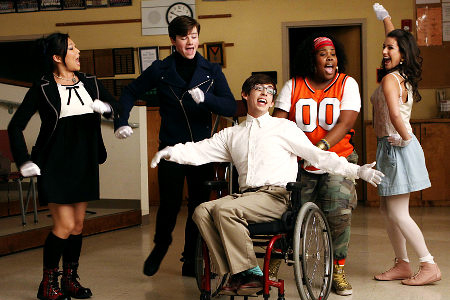 Fox
Fox's megahit Glee returns Tuesday night with its much-hyped season two premiere. One of last season's highest rated new TV series, the show dominated the pop culture zeitgeist over the past year. Part comedy, part Broadway, part soap opera, Glee filled a niche for something that until that point hadn't existed on television: an of-the-moment, referential, and —most importantly—high-quality television musical series.
The show spawned Billboard-charting singles, four Emmy awards, countless parodies and tributes, a nationwide tour, and record DVD sales. Thusly, Glee fans ("Gleeks") are counting down the seconds to Tuesday's premiere. Not among the thousands who shelled out $90 for a ticket at a tour stop, or the 11 million viewers who tuned in to last season's finale? Fear not, we've put together a Cliffs notes study guide for season one: the five things you need to know before season two begins.
1. Everyone's an Archetype
Much like The Breakfast Club before it ("Dear Mr. Vernon...You see us as a brain, an athlete, a basket case, a princess and a criminal..."), Glee casts its characters in conventions. Each high school archetype is represented, and then splashed with (a Slushie of) caricature and cliché.
Rachel is the tenacious star of the glee club, New Directions. Her ambition, ego, and sense of entitlement is matched by her hidden insecurities—and backed up by her talent. Her male lead is Finn, a bumbling jock with vocal chops who fumbles his way into the choir, convincing his MILF-hunting, tough-guy best friend Puck to join with him. Mercedes is the black girl with the big voice and 'tude; Kurt is her sassy gay best friend. Artie and Tina round out the band of misfits: he is in a wheelchair, wears glasses and tucks his sweater vests into his slacks; she has pink streaks in her hair, wears finger gloves, and stutters.
The prim, judgy, and bitchy cheerleader role is filled by Quinn, with Heather and Santana as her ditzy and trampy sidekicks. The earnest choir director with the heart of gold and speech of schmaltz is Will Schuester, and the hubris-redefining Sue Sylvester coaches the Cheerios cheer squad—in between crushing the glee kids' dreams.
2. Everybody Dates Each Other
McKinley High is one big incestuous family. Love triangles turn into squares into pentagons into shapes with so many sides they stop teaching you the names of them in geometry class. And it's not just the students who weave these tangled webs of romance—their parents and teachers are in on the action too. A picture is worth a thousand words; here's charting New Directions' Bad Romance: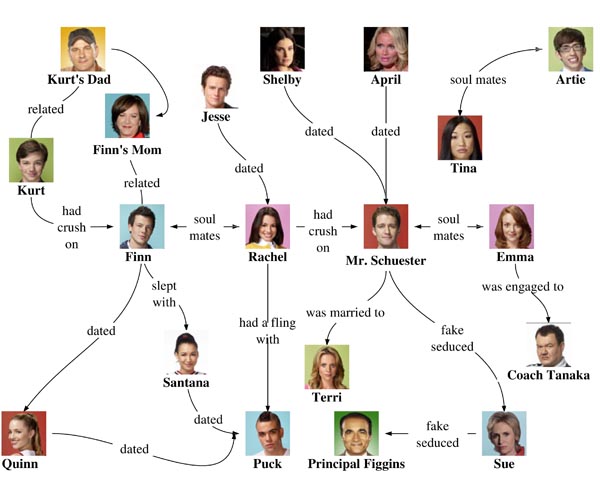 Wheelchair-bound Artie and reformed stutterer Tina are the nerd couple. They bonded over their respective ailments (though Tina—scandal—was faking her speech impediment), and have now cornered the aw shucks market of Glee love.
Though they certainly have competition from choir director Will and guidance counselor Emma. During the first half of the season, the two carried a remarkable amount of sexual tension for a sweater vest-wearing man and woman who owns a cardigan in every color. So when Will divorced his shrew wife Teri, their "will they/won't" they became a "they did." That is, until Emma agreed to marry the football coach, Will hooked up with another school's choir director, and they decided to just be friends...for now.
It's best to channel your inner twelve-year-old girl to understand this next part: Quarterback Finn dated cheer captain Quinn (Finn & Quinn—roll your eyes). Finn found himself in an "unlikely" romance—except completely likely because they're the show's leads—with Rachel once he joined glee. Quinn cheated on Finn with his best friend Puck, so Finn dumped Quinn and spent the rest of the season caught between Quinn and Rachel. Except for that one night that he slept with Santana.
Rachel, tired of pining after Finn, had a brief fling with Puck (because they're both hot Jews...really), before getting her heartbroken by the rival glee club's leading man. Kurt, coming to terms with coming out, developed a crush on Finn. Things only got more awkward when Kurt's dad began dating Finn's mom and the two boys became roommates.
It's all very complicated, and that's before even getting into the...
3. Baby Mama Drama
Early on in Glee's run, President of the Celibacy Club Quinn shockingly becomes pregnant by Puck—who she cheated on Finn with ("you got me drunk on wine coolers and I felt fat that day"). To avoid more scandal, she convinces Finn that the baby is his even though the two never actually hit the high notes together (he's not that bright, and was prone to early, um, overexcitement during hot tub makeout sessions).
Around the same time, Mr. Schuester's wife Terri finds out that she's also expecting. After discovering it was only a hysterical pregnancy, she pillow-under-the-shirts it in hopes that a baby on the way would save her strained marriage. Only, there would be no child coming—which is why she corners Quinn and tries to convince the teen to let her keep the baby after it's born. (That whole plan goes by the wayside when Will discovers that Terri was using as a fake stomach and leaves her.)
And even Glee's grown children endure baby mama drama. We learn that Rachel's two gay dads adopted her as a newborn, clearing the way for the perfect sweeps week plot: the return of her biological mom. Amping up the drama, her mother, Shelby, is also the director of New Directions' rival choir, Vocal Adrenaline. It only takes a few emotional duets between estranged mom and daughter to realize they can't pursue a relationship this late in life.
Yet on Glee, everything comes full circle. Quinn's season finale delivery ends with a twist: after her brief, eye-opening reconnection with Rachel, Shelby adopts Quinn's newborn, getting a second chance at raising a little girl.
4. Glee Lives and Dies by its Guest Stars and Track Lists
As if it's not hard enough to keep track of the relationships and roles of Glee's fifteen series regulars, there's a constantly revolving door of guest stars. Season one featured cameos by Neil Patrick Harris, Kristin Chenoweth, Olivia Newton-John, Josh Groban, Eve, and a host of other Broadway celebrities in roles both major and minor. Already on the roster for season two there's Britney Spears, John Stamos, Javier Bardem, Carol Burnett, and Meatloaf. It's no secret that announcing big-named guest stars generates big amounts of press (more about that here), so expect the star wattage to keep growing.
Similarly, by leaking track lists and songs that New Directions will cover in upcoming episodes, Glee has managed to keep itself in the headlines on a nearly perpetual basis. Season one featured the aforementioned tributes to Madonna and Lady Gaga, and the upcoming season has already announced similar theme nights around Britney Spears and The Rocky Horror Picture Show. By releasing the names last week of the songs that will be covered in the season premiere, the show has only increased its substantial buzz leading up to Tuesday night.
5. New Directions is Always the Underdog
Since the very first episode, the glee club has been under siege from all sides.
At the start of the show's pilot, McKinley High's glee club is a motley crew of five with no director. Nostalgic for his days as a high school singing star, Spanish teacher Mr. Schuester steps in to restore the club to its glory days as an award-winning show choir, dubbing the new group New Directions.
After overhearing football star Finn belt out REO Speedwagon in a locker room shower (where all stars are made), Mr. Schuester recruits him for New Directions, which starts to actually resemble a glee club after finding its leading man. But Schu's wife tries to convince him the drop the group (too much of a time commitment), which he nearly does before walking in on their rehearsal of "Don't Stop Believing." With that performance, a glee club—and a hit series—were born.
Over the course of the season, Finn's friend Puck and two more guys join New Directions. Cheerios coach Sue, livid that glee is siphoning her cheer team's budget, sets off to destroy the club by planting members of her squad in the group as sabotage. So Cheerios Quinn, Santana, and Brittany bring the membership count high enough for the group to compete at Sectionals. The unlikely group of nerds, jocks, popular kids, and weirdos end up bonding to overcome cheating competitors, Sue's undermining, and a series of other obstacles to win the competition.
New Directions channels Madonna, studies theatricality through Lady Gaga, and eventually hits the stage at Regionals. But no amount of Journey could compete with rival Vocal Adrenaline's epic staging of "Bohemian Rhapsody," and the Little Glee Club That Could, doesn't. The group comes in third. Season two kicks off with the choir reeling from their loss, but also determined to make it, somehow, to New York for Nationals (cue "Empire State of Mind").