400-Year-Old Masterpiece Painting Discovered in Spain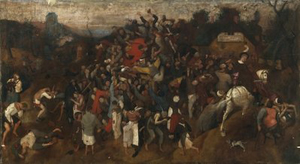 A team of experts at Madrid's Prado National Art Museum has identified Pieter Bruegel the Elder as the painter of a 400-year-old, previously unnamed masterpiece. The painting, called "The Wine of St. Martin's Day," is tempera on linen, and dates between 1565 and 1568. It illustrates a motley crowd attempting to get a sip of wine from the year's first vintage on St. Martin's feast day. The Prado has only one other Bruegel painting, "The Triumph of Death." There are now 41 signed Bruegel paintings in the world. "The discovery of a Bruegel is an exceptional event and not something that is likely to be repeated," said Angeles Gonzales Sinde, the Spanish culture minister. According to Prado director Miguel Zugaza, the collectors had no idea the painting was a Bruegel until they attempted to sell it last year.
Sotheby's of Madrid then asked the Prado to study the much-deteriorated work and investigations gradually brought to light that it was a Bruegel.

"All the top experts in Flemish painting and in Bruegel were invited to view the work and they were unanimous in declaring it a work of the master," Zugaza said.

Confirmation came on Sept. 6 when cleaning work revealed Bruegel's signature.
Read the full story at The Associated Press. .