Zac Efron and Miley Cyrus: When Former Disney Stars Align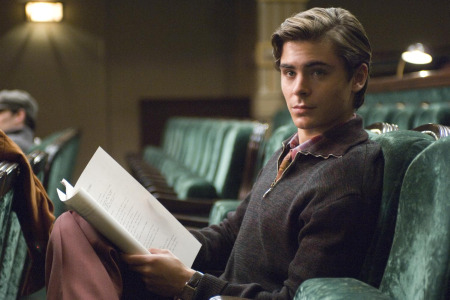 New Line
The former Disney stars align! This week, attempts to transition into a more mature phase of stardom by High School Musical hoops star Zac Efron (Me and Orson Welles) and Hannah Montana herself, Miley Cyrus (The Last Song), debut on home video. Me and Orson Welles, a period drama that's currently available to rent on iTunes (it rolls out on Netflix on September 14), is by far the better film, but both show their stars' limitations in interesting, and sometimes thoroughly amusing, ways.
Me and Orson Welles is directed by Richard Linklater (Dazed and Confused, Before Sunrise/Sunset), a filmmaker whose genre-hopping and consistent interest in group dynamics make him a sort of latter-day Howard Hawks fill-in for many critics with auteurist leanings. So Welles isn't strictly a vehicle for Efron; his most recent film, Charlie St. Cloud, a now-in-theaters weepie that finds its protagonist grappling with some heavy stuff after high school graduation, would probably provide a more appropriate Last Song analogue. But it's worth noting how Efron fares with less cloying material.
Efron is the nominal lead of Me and Orson Welles, about the legendary actor-director's 1937 performance of Shakespeare's Julius Caesar at Broadway's Mercury Theatre. But he is part of a very strong ensemble: Claire Danes, Christian McKay, Zoe Kazan, Ben Chaplin, and Eddie Marsan, a British actor who appeared on the fringes of some of the last decade's best films (The New World, Miami Vice) before outdoing himself in a larger role in Mike Leigh's Happy-Go-Lucky. So it's possible to enjoy Linklater's film despite being totally put off by the spectacle of the "Get'cha Head in the Game" singer crooning his way through a song interpolated from Henry VIII while strumming on a makeshift lute. Efron's vaguely plastic features don't mesh particularly well with the movie's period appointments, either, but then that's not so much his fault as that of whoever cast him.
Efron's character, Richard Samuels, gets a small part in Julius Caesar by being in the right place at the right time and not lacking for moxie; the actor essentially plays the ur-theater-kid here—skipping school to get ahead while still clinging to a heavily romanticized idea of the possibilities of drama. McKay's Welles tells Richard that he's a "God-created actor." Whether this is true of Efron is harder to say. At this point, there is still something unnerving about how piercing his gaze is—he never chews the scenery, but he does sometimes seem intent on vaporizing it, as Cyclops from the X-Men films might—but perhaps he will find a way to use that to suggest depth in a character rather than just eager blankness.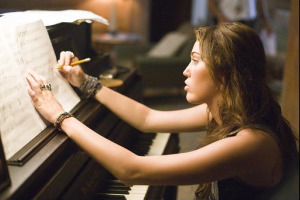 Walt Disney Pictures
Cyrus's problem, meanwhile, isn't that she's too polished. Her clumsy performance in The Last Song, directed by Julie Ann Robinson and adapted from a Nicholas Sparks novel, is actually sort of endearing if you also take into account just how closely her brand is managed. Cyrus's character, Ronnie, marches to the beat of her own drum but loves sea turtles and reads Tolstoy, shadings the actress can't sell, thus diminishing the character to an awkward composite of extreme attitudes.
The Last Song centers on rebellious Ronnie, who goes to stay at her father's Georgia beach house for the summer. Her dad (Greg Kinnear) is a piano virtuoso (more like a cut-rate Jim Brickman to these ears, but whatever), and so is she—they're at odds, though, as she's still bitter about his separation from Mom (Kelly Preston). Vaguely troubled, Ronnie immediately gravitates toward the kids who stay out past midnight, have tattoos, and juggle what look like flaming beanbags. She eventually lets down her guard, however, to fall in love with a rich-kid beach volleyball stud (Liam Hemsworth, Miley's real-life boyfriend!). And then there's a last-act terminal-illness sucker punch, a Sparks hallmark.
This is easily the most shamelessly manipulative movie I've seen this year, and probably also one of the plain worst, but it's fascinating to watch how the screenwriters, Sparks and Jeff Van Wie, deal with Cyrus's limitations as a dramatic actress. The misunderstood rebel act that her character keeps up for such a large part of the film requires her to deflect with an indignant huff any attempt to connect, essentially meaning the actress isn't required to play off anyone else, and no one is required to play off her. The most accomplished of the film's main players, Kinnear, so terrific in everything from Paul Schrader's Auto Focus to Linklater's Bad News Bears, is mostly reduced to bantering with the little-brother character, Jonah (Bobby Coleman), who is irritatingly reminiscent of The Blind Side's hyper-precocious S.J.
Based on the evidence here, I'd guess that Efron's star will outlast Cyrus's, at least on the big screen; mostly, though, I'm left hoping against hope that Kinnear will be on to better things again, because it really doesn't get much worse than the ridiculous beach-read tragedies of The Last Song.